NEW DELHI: It was the National Highway from Jaipur to Dholpur. A car, with a family of four in it, skiddied and overturned. Praveen Lekhara, his wife Shweta and their children — son Arnav and daughter Avani — had a close shave. But their world shook when the extent of Avani's injuries was known.
Avani suffered damage in her spinal cord, losing mobility and sensation from waist down.
"For almost six months after the accident, she was bed-ridden," Avani's mother tells Timesofindia.com.
A child, mere 11, pushed herself into the dark corners of the house. "She turned into an introvert," the mother adds.
The rest of the family recovered from their injuries. It was 2011.
From there to becoming India's first woman to win a Paralympic gold in Tokyo last month, Avani lived the motto her Twitter bio proudly carries: "Life consists not in holding good cards, but in playing those cards you hold well."
(Photo credit: @ShootingPara Twitter)
But the plight of an 11-year-old, who could jump with gay abandon a day earlier but couldn't feel her legs 24 hours later, is painfully unimaginable.
"It felt like a nightmare, like I will wake up and everything will be back to normal."
The pain of a kid not being able to understand why she can't get up like before and walk up to her parents and her brother resonates in those words Avani so boldly puts together.
She is just 19.
"As a kid, it was all very new, very different, very hard for me. I personally was not emotionally stable. But then slowly, slowly I came back. It feels natural now," says Avani in an interaction with Timesofindia.com.
It surely is natural now. Pulling out all stops life threw in her way, Avani held the rifle first in 2015 and hasn't looked back since then. Tokyo proved the watershed moment Avani had in her sights from the day she turned international in 2017.
At the Paralympics in Japan, she won two medals — a gold and a bronze, becoming the first Indian woman to do so.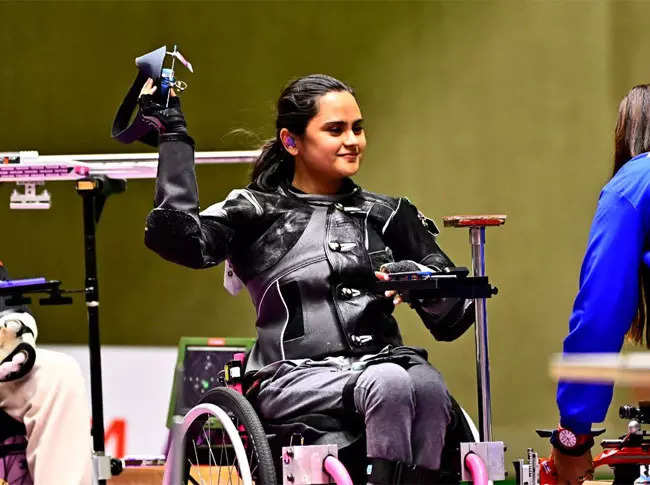 (Photo credit: @ShootingPara Twitter)
But if you miss out on any of the numerous firsts Avani achieved, she reminds you of that with a smile on her face.
"There are more firsts," she says.
"It was my first international gold medal, and it came at the Paralympics, in the 10m Air Rifle Standing event. In the 3P (50m 3 Positions event), the bronze was my first international medal. So there were a lot of firsts," Avani says, before interrupting the next question to quickly add. "My first Paralympics as well."
In her debut Games, Avani struck gold. She left the likes of reigning champion Zhang Cuiping of China behind on the podium to second place, followed by Ukraine's Iryna Shchetnik on third.
A world record equalling total of 249.6 in the final provided the icing on the cake.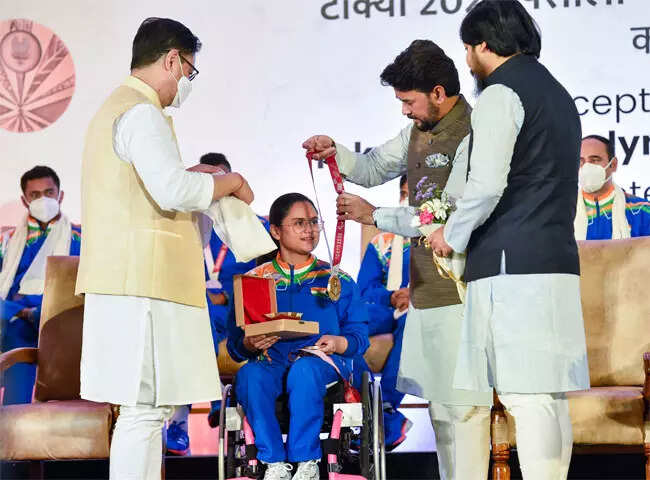 (Photo credit: @ShootingPara Twitter)
"I was just focusing on my process, just one shot at a time and then it all happened automatically," says Avani, who is coached by Suma Shirur since 2018.
"I feel like I am still in a dream. I still can't believe that I have won a gold and a bronze. It will take some time to sink in for me," she said, ahead of the Paralympic contingent's felicitation ceremony by the Sports Ministry in Delhi on Wednesday (September 8).
But that was not the end of Avani's stint on the Tokyo 2020 podium.
Listen in as @SumaShirur, Coach of National Junior Rifle Team & #Paralympics Gold Medalist, @AvaniLekhara, talks ab… https://t.co/zZ3xCJd1tx

— SAI Media (@Media_SAI) 1631033093000
She entered the 50m 3 Positions final and then came through a tight contest among the eight finalists to clinch her second medal of the Games, a bronze.
The teenager featured in two other events as well — the mixed 10m Air Rifle Prone and mixed 50m Rifle Prone — but could't be among the medals in those.
However, Avani believes that at her first Paralympics she had nothing to lose, as she went to Tokyo to experience the Games and learn for her future appearances at the biggest stage.
"I didn't expect any medals because I believe I wanted to just have the experience, learn and improve myself as an athlete and as a shooter. When you put yourself under pressure for medals, then you can't focus on your process, your work."
WHEN AVANI FIRST HELD A RIFLE
Avani's father desperately wanted his daughter to re-establish some sort of normalcy in life, leaving behind the depressed pockets she looked like pushing herself into.
So he took her to the shooting range in Jagatpura, Jaipur, in 2015.
"Shooting gave me a lot of self-confidence, self-belief, that I can do anything in life. That was the turning point," says Avani.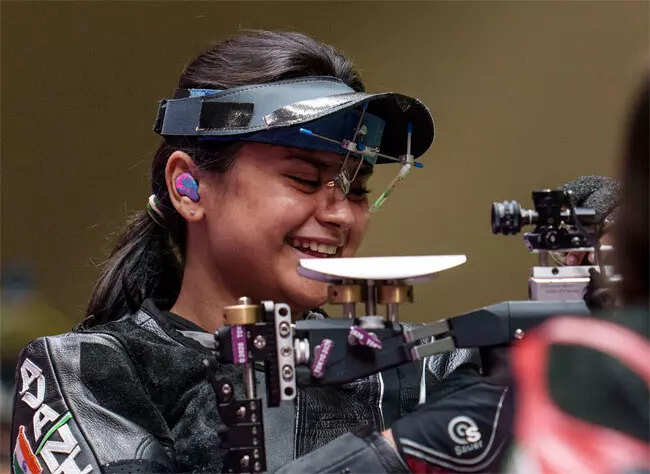 (PTI photo)
She never seriously thought of taking up archery, though she did give it a try before landing up at the shooting range.
"I just tried it (archery) once or twice, didn't start, just went for a day or two…But I felt so connected to shooting, especially rifle shooting," she adds.
It wasn't long before Avani won medals at the National Championships and in two years came the international call-up.
At the 2017 World Cup in Al-Ain, Avani made her debut and won a medal as well. She believes that medal gave her the belief that she belonged to the sport.
"Standing there with world class athletes, some were almost 60-plus, I was the youngest. There were three generations playing the final, and I won the silver. At that point of time, I felt I could do anything. I am representing India, so it doesn't matter now. If I can give my best everytime, that is what matters," Avai says, putting her feelings from that day into words.
THE SUPPORT SYSTEM
Avani's mother travels with her to every tournament. She was in Tokyo as well when her daughter created history.
The family is undoubtedly the biggest support when one needs to start his or her life afresh in any circumstances, more so when you have to win over a physical challenge. It's been the same for Avani.
"My family, my parents and my brother, they have supported me throughout. My mom has come to each and every match I have played in my life. She is always standing by. My father is more interested than me in shooting. My brother, whenever I am home, he takes me to the range," she said.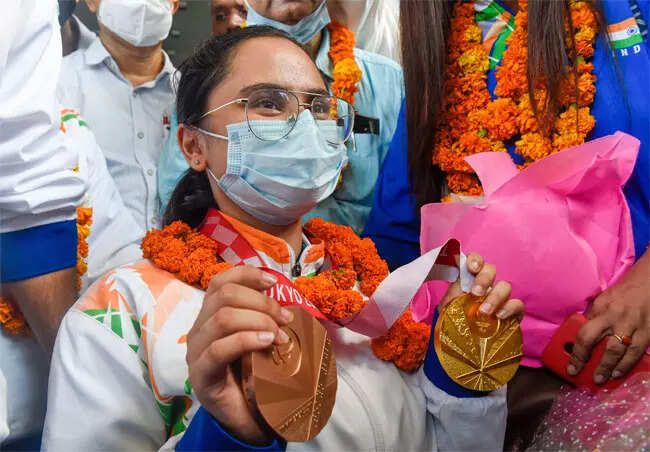 (PTI photo)
In 2018, she met her present coach Shirur, and they struck a bond from day one.
"She (Suma Shirur) has played the most important role. She was there with me every second (in Tokyo). I share everything with her, whether it is mental, physical, technical, emotional. Anything I have problems with, she solves it all. She said 'medal or no medal, I will always be there with you, backing you up. It doesn't matter to me, just go and give your hundred percent'," says Avani as a note of thanks for her coach.
Her mother feels it would have been tough had Avani given up and not pushed her limits. Her "positive attitude" turned out to be the key to her coming back and reaching this stage in her life.
"For the first two years (after the accident in 2011), she was only at home, studying from home as well. Then gradually, after she got admitted to a school again and started shooting in 2015, that was when she started coming out of her shell," says Avani's mother.
"The biggest thing about her is that she accepted her condition and tried to move ahead. So you can say she is very determined with a positive attitude, very confident."
At present, Avani is pursuing her five-year law degree besides being a shooting athlete.
'I DON'T COMPARE MYSELF WITH ANYBODY'
A life-changing accident taught Avani how 'time' can be a healer, along with patience and an attitude to not give up. She believes that she could achieve what she has today by breaking boundaries and accepting reality.
"I don't compare myself with anybody," says Avani. "I just know that my competition is with me only. I can't take someone else as my competitor and try to beat their score because at the end of the day, I am standing there (at the firing point) alone and I have to control myself, my feelings, my emotions, whatever good or bad I am feeling at that time."
She then went on to recall her state after the accident and how she accepted that over time.
"When I met with the accident, on the same day I couldn't feel my legs properly. Time was the key. Nobody is going to help you unless and until you want to do something. It's totally upon you. If you can't change something, then it's not your fault. You don't have to think about it if it is not your fault," said Avani.
When Avani came out of the range after winning gold in Tokyo and met her mother, they had tears in their eyes.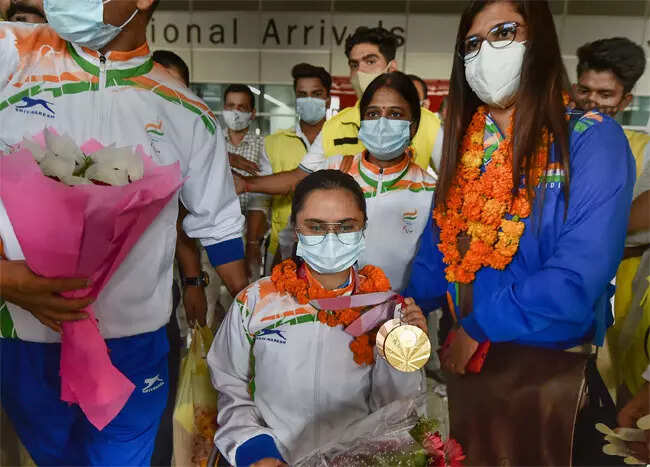 (PTI photo)
"The whole journey since that accident to now played out in front of my eyes," says Avani's mother. "The happiness then I saw on her face as a mother, I can't put that in words. It's beyond words.
"It was also Janamashtami that day, so somewhere Lord Krishna had a huge role in it. It felt God blessed her for the hard work she had put in."