NEW DELHI: In India, and to an extent internationally as well, sports that are accessible to aspiring players at all levels have had a healthier growth graph. It's more evident at the grassroots, when a kid wants to pick up a cricket bat, a hockey stick, or kick a football to feel the sense of enjoyment before taking up the sport. That's where cricket and football thrive in India; and a sport like
Formula One
, tax issues aside, was shown the door.
In the early 2000s, shooting too was largely a royal sport that needed guns, pistols, rifles and ammunition that still cost a lot. There were not enough ranges locally to train at. Quality grassroot coaches too were in short supply. But it all changed after 2004, when Rajyavardhan Singh Rathore shot a silver at the Athens Olympics and then in 2008, when Abhinav Bindra struck gold in Beijing.
The sport has never looked back since.
The key to shooting's growth has been accessibility, which improved further after two medals at the biggest stage, followed by a couple more —
Gagan Narang
and
Vijay Kumar
— at the 2012 London Olympics. Former shooters became more interested in coaching. They opened private ranges for air weapons in the neighborhood and invested in weapons to improve availability for those who couldn't afford it earlier. The result was the sport getting flooded with youngsters, and the supply chain strengthened.
At Tokyo 2020/21, India added another discipline to its roster of sports that have appeared at the Games. Indian fencing made its Olympic debut, and
Bhavani Devi
woke India up at 5:30 am to watch a sport on TV that had previously succumbed to the command of the remote control.
'Daughter of a priest makes India proud': Such taglines grabbed news space.
Bhavani plays in the women's sabre event. Epee and foil are the other two disciplines of the combat sport that India knows a little more about now.
She lost in the second round, but had made the bigger point even before winning her first match. India had a fencer at the Olympics for the first time, and that's from where the sport would want to build on now and maybe win an elusive Olympic medal by Los Angeles 2028 to follow in shooting's footsteps.
Nadia Ben Azizi of Team Tunisia, left, during her match against CA Bhavani Devi of Team India at Tokyo 2020. (Photo by Julian Finney/Getty Images)
CAN IT HAPPEN?
Like shooting, the equipment fencing requires isn't easily available, especially the blade or the sword, which still needs to be imported by the Indian fencers through the few distributors that sell the equipment in India.
The entire paraphernalia, including the suit, helmet, blade and the shoes, can cost anywhere between Rs 25,000 and Rs 30,000. But there are a couple of training requirements for which the fencers need an academy or training facility.
The sport is played on a specialised aluminum floor because it needs a conductive surface for the current to pass. This floor is called the piste.
An electronic scoring apparatus, to which the two players are wired, counts the points that are calculated based on the times a player's blade strikes the opponent. The points awarded depend on which part of the blade hits the scoring areas on the player's body. These vary in sabre, epee and foil.
The point in reference is that the piste and the scoring apparatus together cost in lakhs. That's where investors, corporates and private academies come into the picture, if the sport has to thrive at the local level.
"The piste was only imported from outside earlier and cost Rs 5.5 lakh or so," Arjun Anand, who owns the Anandco Sporting Corporation — a sports equipment distributor and seller in Jalandhar, Punjab told TimesofIndia.com.
"So not many would put their money in the game as far as opening training centres are concerned."
The company has installed the piste at various Sports Authority of India (SAI) centres as well, including at the National Institute of Sports (NIS) in Patiala and at the SAI centre in Ahmedabad.
The good news is that the piste need not be imported now and is manufactured in India itself. More importantly, it costs much less.
"We are now manufacturing and selling an international standard piste for around Rs 3.5 lakh," revealed Anand, before making a very important point. "It has led to some increase in interest and inquiries. We can even make a mini version of it, which can cost even less."
A standard piste is 18 metres long. In training, two to three pairs of fencers can spar on it, but only one match can be played competitively, as it requires the scoring apparatus to come into play. That costs Rs 50,000 approximately and is also manufactured in India now.
Had it not been for Covid, says Anand, a few more installations would also have been made by now.
"Once the pandemic is out of the way, we should have around 20-25 immediate orders from academies, schools, etc," he further told TimesofIndia.com.
It's an encouraging prospect for the sport.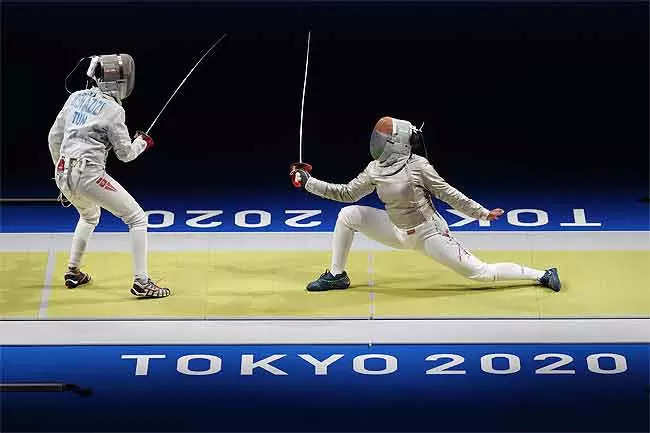 Nadia Ben Azizi of Team Tunisia, left, during her match against CA Bhavani Devi of Team India at Tokyo 2020. (Photo by Julian Finney/Getty Images)
THE ACADEMIES
Despite 'outside' help, when it comes to infrastructure for any sport, the federation governing it plays a significant role.
The Fencing Association of India (FAI), headed by Rajeev Mehta, does its bit by procuring equipment for young fencers through the Khelo India scheme.
"Fencing is a very equipment-based sport. When I started, I was playing with sticks and on the cement floor. I used to hit the walls as an imaginary opponent," Bhavani had said while talking to reporters in an online press conference post the Olympics.
The infrastructure in India has undoubtedly come a long way since those days, though it's still a work in progress.
The Khelo India scheme allows federations, including the FAI, to support the existing academies with its 'Gradation and Incentivisation' programme under an eligibility criteria. These academies are divided into national, regional, state-level centres; and the Sports Authority of India (SAI) sanctions the incentives after inspection by its experts.
"We have plans to open training centres in 250 districts (across India)," the FAI general secretary, Bashir Khan, had told TimesofIndia.com a few days after the Tokyo Olympics concluded on August 8.
"In the first phase, we have targeted 50 districts. Each of these centres will be given Rs 5 lakh equipment by SAI (as per the gradation and incentivisation scheme). Any private clubs or academies will be offered affiliation with the federation," said Khan.
"The interested private schools will be given the status of academies and all the help possible will be extended to them from the federation or SAI."
These academies have been given the name of Intermediate Performance Centres.
"Fencing is a very new sport (for India). We have training centres, but now we are going to have those across India, which is a great step," said Bhavani, when asked about the future of the sport.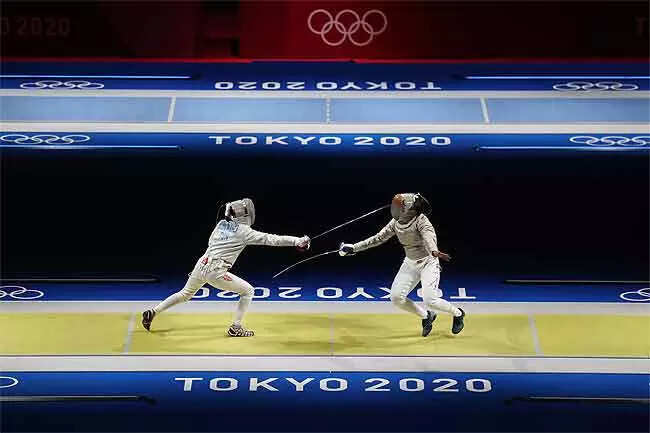 Nadia Ben Azizi of Team Tunisia, left, during her match against CA Bhavani Devi of Team India at Tokyo 2020. (Photo by Julian Finney/Getty Images)
THE COACHES
Bhavani's success has re-energised the push for fencing. It shows in FAI's decision to immediately seek a foreign sabre coach, for which the federation has advertised and is in the process of receiving applications until October 20.
But to build a strong base, the grassroots need to be strengthened first with quality coaches. The FAI, stressed Khan, has that covered as well in its plans.
"This year, 30 fencing coaches are enrolled in programmes at the NIS in Patiala. Apart from that, 65 coaches are part of a diploma course. So, that should take care of the coaching part.
"We have plans to send 12 coaches to Hungary for exposure to coaching techniques," Khan told TimesofIndia.com.
BREAKING BARRIERS
Undoubtedly Bhavani has broken the glass ceiling for fencing in India. She is the world No. 50 in women's individual sabre currently. In 2017, when she won the Tournoi Satellite Fencing Championship in Iceland, she was No. 36.
But coming through the ranks in an almost 'alien' sport for India, Bhavani didn't get the support that young athletes in other sports India usually get today.
"When I started fencing, I wasn't getting positive response and encouragement towards achieving this (Olympic) dream. It was not even easy to dream about the Olympics for fencing in India," said Bhavani.
Back in 2008, when Bhavani had to travel to Korea to participate in the senior Asian Championship, the association then was not in a position to fund the expenses. In the end, the late Jayalalitha, who went on to become the Tamil Nadu chief minister, funded Bhavani.
But Bhavani said those times are a thing of the past now, and the FAI is doing a lot to promote fencing like never before.
"The FAI president, Rajeev Mehta, has assured they are going to open a lot of training centres in India with high-class facilities as per international standards," said Bhavani.
"Everything is difficult before it becomes easy, so we have to go step by step".