NEW DELHI: Indian javelin thrower
Devendra Jhajharia
is nothing short of an absolute inspiration. He won his maiden gold medal at the 2004
Paralympics
in Athens with a world record (62.15m throw) and then produced an encore when he threw 63.97m (WR) at the Rio Paralympics in 2016 to claim another gold medal.
Jhajharia, now 40, is all set for his third Olympic appearance and is confident of clinching a third gold medal.
"I always feel proud that I have won two Olympic medals for my country and that too gold medals. I broke a 12-year world record when I won the gold medal in Rio. It's been 19 years with the Indian team, but it feels like I began yesterday. I have won Asian Championship medals, World Championships medals and Paralympic medals," Jhajharia told TimesofIndia.com in an exclusive interview.
Jhajharia, who will compete in the men's F-46 category at the Paralympics, sent the spear to a distance of 65.71m during a national selection trial in New Delhi in July to book his ticket to Tokyo.
Devendra Jhajharia (TOI Photo)
The gold medal in the 2004 Paralympics in Athens saw Jhajharia, a resident of Churu District in Rajasthan, being honoured with the 2004 Arjuna Award. He also received India's prestigious Padma Shri Award in 2012. Following his success in Rio in 2016, he was conferred with the Rajiv Gandhi Khel Ratna Award in 2017.
"People say one should retire at 40. Why should I? When I can deliver more for my country, why should I retire? I can break the world record at the age of 40 also. I broke the WR in 2004 and then in 2016 and now I will do it again in Tokyo. Age is just a number for me. Tokyo is the only thing on my mind right now. After Tokyo, I will come up with a new plan for the Paris Olympics (2024)," he said.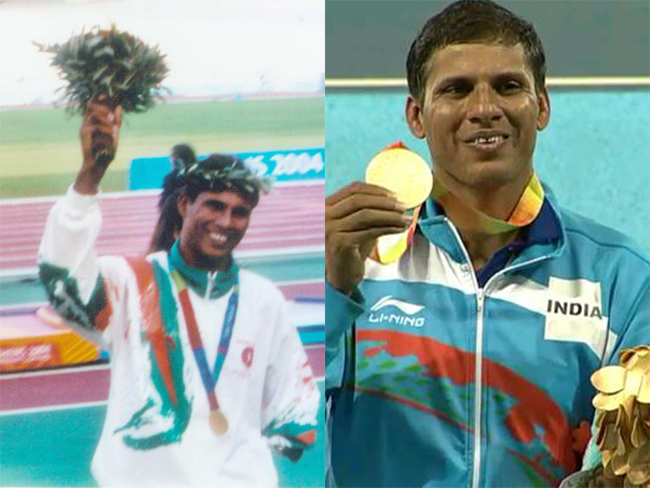 Devendra Jhajharia after winning gold medals in Athens 2004 (left) and Rio 2016
"I am confident of claiming a third gold medal for my country. I am confident of winning my third gold with a world record," Jhajharia added.
CYCLE TYRE TUBES, LPG CYLINDER – JHAJHARIA'S EQUIPMENT
The lockdown due to COVID-19, last year, didn't allow Jhajharia to hit the gym or the field to prepare for the Tokyo Paralympics. He knew he had to come up with new options. He sat for a day and chalked out a plan. He called up one of his friends and asked him to arrange a cycle tyre tube and asked his wife to leave a spare LPG cylinder for him.
"When the first lockdown happened in March last year, my coach Sunil Tanwar had scolded me and instructed me not to gain a single kg of weight. He said, if you gain weight at this age, you will not be able to perform," Jhajharia told TimesofIndia.com.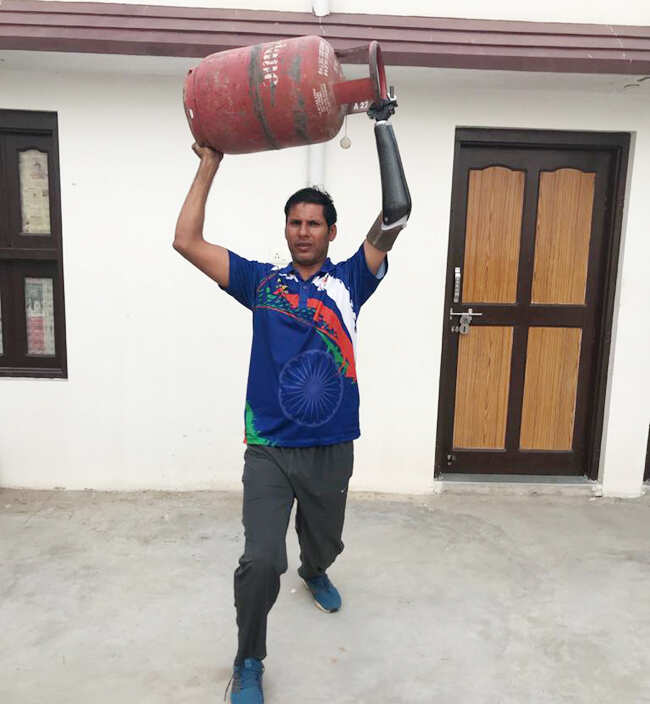 Devendra Jhajharia (TOI Photo)
"I was determined to train. I spent a day arranging a couple of things for my training. I arranged tyre tubes and an LPG cylinder. The tyre tube worked as theraband for me and the LPG cylinder was used for weight training. That's how I managed to keep myself fit for the Paralympics. When you are determined, you can do anything in this world. When I was fully prepared, then the Olympic Games were postponed. I was so disappointed. But I stayed positive and again started focusing on training," he said.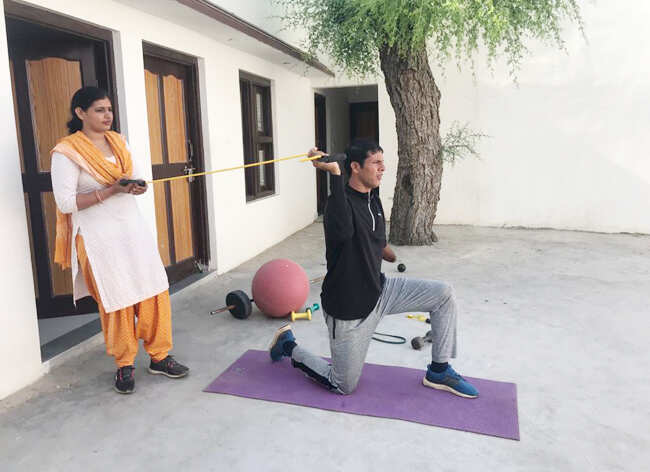 Devendra Jhajharia (TOI Photo)
"I have been training really hard. This COVID-19 pandemic affected every sportsperson's training and regular regime. I had to work really hard due to this. It is not easy to keep yourself fit at home, inside a room, if you are a sportsperson. I was confined to a room for five months and did my training. All I wanted was to be prepared for the Paralympics," he further said.
'NEERAJ WILL WIN A MEDAL'
Another Indian javelin thrower Neeraj Chopra is one of the big medal contenders at the Tokyo Olympics. Jhajharia feels Neeraj is a big stage performer and will bring home an Olympic medal.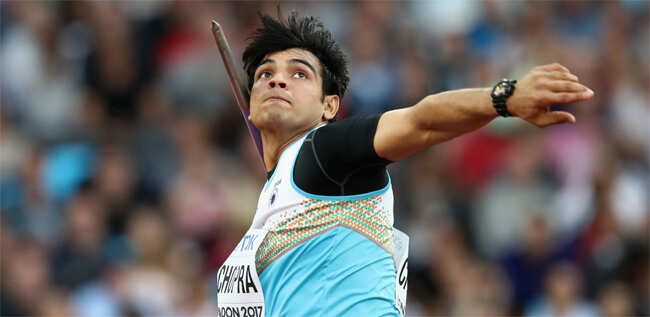 Neeraj Chopra (Getty Images)
"I am confident that Neeraj will surely come back with a medal. I have seen his performances and followed him closely. He is a big tournament man. He has always delivered on the big stage. I am sure he will have a podium finish in Tokyo. He will bring a medal," the 40-year-old Jhajharia further told TimesofIndia.com.
1997 – THE HORRIFIC INCIDENT
Jhajharia, who competes in the men's F-46 category, still vividly remembers the life-changing horrific incident of 1997 when he lost his left hand.
He was eight and was playing hide and seek with his friends. He climbed a tree and accidentally grabbed a live wire, which had 11,000 volts of electricity running through it. He fell to the ground and his friends took him to his parents.
"I didn't know what happened once I fell on the ground. My parents thought I was dead. I was taken to a nearby hospital. Doctors saved my life but I lost my left hand. But God had decided something else, something good for me. And I am in front of you today, representing my country at the Paralympics. I have two Paralympic golds and I am sure I will bring more laurels for my country," Jhajharia signed off.