She made headlines at the 2018 Commonwealth Games and then again at the Asian Games in the same year. Between these two tournaments she won as many as five medals, with two golds, one silver and two bronze. Her gold in the Women's Singles at the CWG and then the Asian Games bronze medal in the Mixed Doubles with
Sharath Kamal
were in many ways watershed moments for Indian
table tennis
.
And then there was no looking back for
Manika Batra
.
The poster girl of Indian Table Tennis is currently in Tokyo for what will be her second Olympic appearance and is all set to compete in the Women's Singles and the Mixed Doubles events. No Indian has ever won a
TT
medal at the
Olympics
. Will
Manika
be the first to break that jinx?
In a freewheeling chat with TimesofIndia.com, the 26 year old spoke about her TT journey, her realistic goals in Tokyo, her preparation for this edition of the Olympics, her evolution as a player, Indian TT vis a vis other Asian countries and much more.
This is part one of a special chat with Manika Batra.
You are all set for the Tokyo Olympics. This will be your second Olympic appearance after the Rio Games in 2016. How excited are you?
This will be my second Olympics. I am excited and also prepared. In the first Olympics (Rio 2016) I went to just play. This time I am expecting much more from myself. I am happy and excited because qualifying for the Olympics and playing for your country itself is a big thing. So, I am happy to be here for my second Olympics
How are you feeling physically and mentally? Are you happy with your preparation for the Tokyo Games?
Yes, I am very happy. Of course, not fully satisfied, because no player is ever fully satisfied with his or her preparation for any tournament. But I am happy with my preparation this time. Before the 2016 Games, I was not prepared as much as I am this time. This time the training I have done in Pune, with all my support staff – coach, physio and sparring partner, who is from Belarus has been very good. I am prepared physically and mentally too. Mentally is important, because of the current situation (Covid), which will mean we will have to stay tough. So yes, I am prepared.
The country of course always expects a lot from the entire Indian contingent before every Olympics. But every athlete, individually, also sets some sort of realistic expectations from the Games for himself or herself. What are the goals that you are setting for yourself at the Tokyo Games?
In my mind, I am at the Tokyo Olympics for my country and I will give my best, no matter what. I will give my 100%. But I will not put that pressure on myself while I am playing, that I have to win. At the back of my mind I will have that thought of course that I have to win for my country, but I don't want to put pressure on myself. I just want to enjoy and play my best. I want to surprise myself.
Its time to leave for #Tokyo2020 https://t.co/QguBXVajv3

— Manika Batra (@manikabatra_TT) 1626534755000
For a while now, you have been practising and living in Tokyo time. Would it be fair to say that you are fully in Tokyo mode? You have been syncing your training time, sleep cycle etc to Tokyo time. You have been having 5 am practice sessions…
We have to do this. I don't want a scenario where I have practice early in the morning and I keep sleeping. I was preparing myself for that. I was getting up at 4 am, with practice scheduled at 5am. This was done to prepare myself mentally and physically. I was trying to play more matches in the morning session. The body is usually lazy and tired at that time and I don't want it to be that way at the Olympics, which is why I was following that schedule
If you think back on your journey so far, when was the first time you thought to yourself – 'yes I can go to the Olympics someday and represent my country? 'When an athlete keeps improving with time, there is a phase when he or she says to himself or herself 'I can go to the Olympics'. When did this happen to you?
When I played my first international tournament. In 2011 I beat (Kasumi) Ishikawa (in a u-21 match in Santiago, Chile – Manika was 16 at the time), when she was ranked 4th in the world. She was an Olympian, so I thought, if I can beat her, I can also go and play at the Olympics. And also when Col. Rajyvardhan Singh Rathore won the silver medal at the 2004 Athen Olympics – that gave me a lot of motivation to try and reach the Olympics and play for my country. I felt that I needed to win for my country too and represent my country at the Olympics.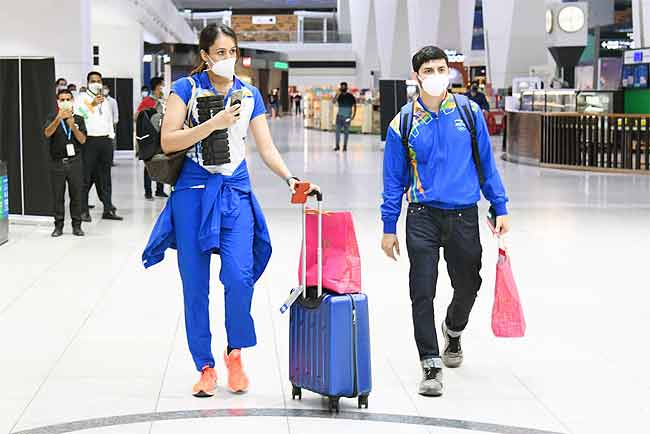 Manika Batra with her coach. (ANI Photo)
When did the TT journey really begin for Manika Batra? I was reading somewhere that you started playing at the age of 4, but how old were you when you thought that this is something that can be turned into a career and that you can pursue it seriously?
I think that happened a little late. In 2008-09 I played the US Open -an international tournament. I won three medals there – two golds and one silver. At that time I thought -'kuch ho sakta hai' (playing TT seriously is possible). So if you compare it with say the Chinese, the realisation happened late. The Chinese for instance start very early and their goals are set. They know this is what they have to do. So, my realisation happened late, but I am glad it happened. Also when you are very young and you win a state championship, that feeling is really good. I really enjoyed those feelings when I was younger.
And once that realisation set in, did you watch any international stars on TV or maybe any videos? Did you have a TT idol while growing up?
I used to watch Chinese player Zhang Jike (Chinese male player – 4 Olympic medals – 3 gold, 1 silver). Also Ding Ning (Chinese female player – 4 Olympic medals – 3 gold, 1 silver). I love their style of play. I used to watch their matches on the internet a lot.
What according to you is the biggest difference in say the Chinese set-up for TT or the Singapore or Japan model vis a vis the Indian set-up?
I think they are taught from a very early age, from when they are 3-4 years old that they have to someday play at the Olympics. Their coaches are very strict and ensure that their players are focused only on their sport and nothing else. So they identify players at a very young age. That is a big difference. But, I think that has improved and changed a lot in India. Now, you find parents who are also keen on getting their children into a sport. That has been one big change. Now the facilities etc are available in India, thanks to government support etc. Everyone is very helpful. So now, if a young child shows an interest, it's not like he or she will not get the help or support or motivation.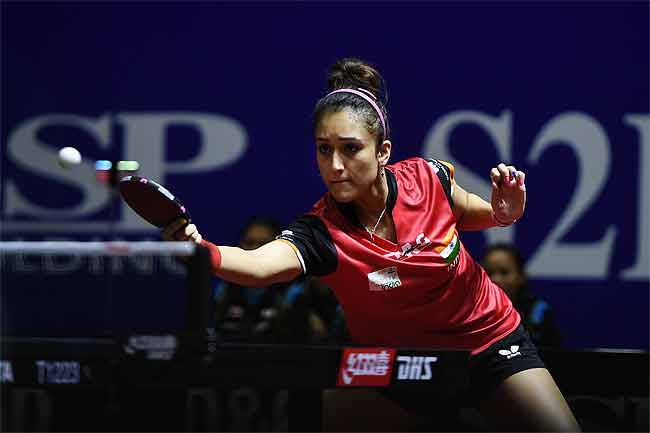 Manika Batra. (Photo by Robertus Pudyanto/Getty Images)
One thing that has stood out in your career so far is how quickly you have matured and improved as a TT player. In 2011 you won the silver medal in the u-21 category at the Chile Open. In three years time, in 2014, you represented India at the Commonwealth Games and the Asian Games. Would it be fair to call that phase in your career the first one of immense and very quick development?
I don't like to praise myself, but in my mind and heart I know that I want to play for my country and win medals for my country. That emotional attachment is very much there. That has always been there. And of course, I have also always been dedicated and determined. That helped me improve quickly. And after switching base to Pune, where I am training now, I have learnt a lot of things, like work ethic, discipline etc. I have learnt these things very well. After I began training in Pune I have also defeated Chinese players as well as Koreans, so I feel I have improved a lot since then as well.
Since we are talking about how quickly you have improved in your career, I have to talk about the 2018 Commonwealth Games. Memories of that competition must still bring a big smile to your face? Two golds, a silver, a bronze – you became the first Indian female TT player to win a CWG gold medal in the women's singles. Did your life change completely after that?
For people, yes. For me, that was just the beginning. I knew I had to work harder than I already was and that I should be more disciplined. When you win a medal for the country, you shouldn't rest on your laurels and say that I am satisfied, I am done. I never think like that. After every tournament, I come back and I practice. Of course I will always have very fond memories of the 2018 CWG. That was the first time I won a CWG medal and four of them. That will always bring a smile to my face, but I also know that I have to work hard and give my best in every training session.
My next question, as you might have guessed, is about the 2018 Asian Games and the historic bronze medal with Sharath Kamal in the Mixed Doubles. How difficult was the journey to that medal for you?
That was our first medal at the Asian Games. And Sharath and I didn't play together in any tournament before that. In fact we hadn't practiced together a lot before that either. But both of us were individually playing well, so we managed to support each other well. We gave our best and we were thinking that we are playing for India, so we have to give our best, no matter what.
And did you realise immediately after winning that medal how big an achievement that was or did that realization seep in later?
No, I realised at that time itself. But the realisation was of course magnified much more later, when I heard people talking about how historic an achievement that was. We didn't have an Asian Games TT medal before that and it's really tough to play at the Asian Games, the field is very competitive. So yes, I felt very good about it personally and I felt like I did something special (laughs)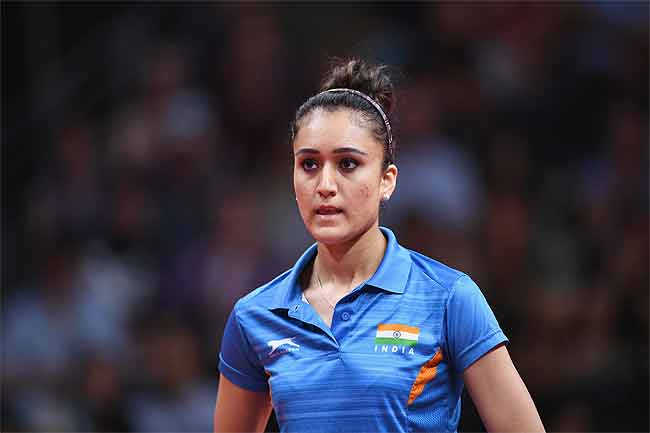 Manika Batra. (Photo by Matt Roberts/Getty Images)
We know just how high the level of competition is at the Asian Games in TT. Would you say a TT medal at the Asian Games is almost as good as a TT medal at the Olympics in terms of difficulty?
To be honest, the Olympics of course is a big big event. But, the Asian Games are very tough. All the top players, who are usually from Asia – Korea, China, Japan, Singapore are all there – so the Asian Games are tougher. Olympics are tough in a different sense because of the pressure of how big the stage is. So, both are tough in different ways.
But right now you are in Tokyo, so the big goal is of course to win a medal at the Tokyo Olympics. Which event do you think you have a better chance of winning a medal in – the Women' Singles or the Mixed Doubles?
To be honest, in the singles, I will give my best, no matter what. I will try to reach the pre-quarters or quarters, after which we will have to see – because after that stage it's about how the pressure is handled. In the Mixed Doubles, we will have the Round of 16, we will have to win 3-4 matches for that. I don't want to say which event I have a better chance of winning a medal in, but we (Manika and Sharath) will give our best. And personally, I can say I will give it my all to try and win a medal here in Tokyo.
Have you identified any potential opponents or big threats at the Games this time as part of your training?
Yes. I have in fact trained as per potential opponents. My coach and I – we have analysed their games etc. I think all the players at the Games are at the same level, because only the top players go to the Olympics. Of course, the Asian players are the best, so they will be the toughest opponents. But even the Europeans and others – they too have come here to win. All the rounds are going to be tough, so I have to give my best in every round, every game
How important a role does nutrition play in an athlete's life? How much has the focus on nutrition during active training evolved over the years?
Health and Fitness as a lifestyle are part and parcel of an athlete's journey. Good nutrition is important for the growth and performance of an athlete. You cannot segregate one from the other. Eating healthy and maintaining fitness have always been at the forefront for athletes. The definition of healthy and nutrition keeps on changing over the years. During active training, the focus is much more on nutrition to be the fittest, perform better and stay stronger.