The bowlers and the lower order delivered India's epochal series win in Australia. But in the
WTC final
vs New Zealand, India's underperforming batsmen must rise to the occasion
Pre-pandemic, if you were fortunate to have witnessed a Team India practice session, you would have seen a member of the support staff tirelessly feed balls into the bowling machine and adjust the speed just enough to simulate the pace of the bowlers in the rival team.
The drill has made most batsmen adept at playing speed merchants on true pitches, thanks to quicker reflexes. Pace now does not trouble Indians.
Can one say the same about seam and swing? The two will be loyal companions for bowlers in England, where the team will play the World Test Championship Final vs New Zealand at the Ageas Bowl in Southampton, starting Friday.
The pandemic has robbed teams of a chance to play tour games or train vs bowlers who can simulate the skills of players that can seam the ball or swing it late, thanks to quarantine restrictions.
Former India skipper and former chairman of selectors, Dilip Vensgsarkar, stressed on the need for match practice. "I'm surprised that no side games have been organised. Three side games are a must before tours of England, Australia and South Africa," he told TOI.
It's a potential headache for skipper Virat Kohli and the team management as they face their perennial bogey team in major events.
In Trent Boult, Tim Southee, Neil Wagner and Kyle Jamieson, the Kiwis have bowlers with pedigree and varied skill sets and a unit that will bowl consistently in a channel that will test a line-up that will be rusty and not prolific in red-ball cricket.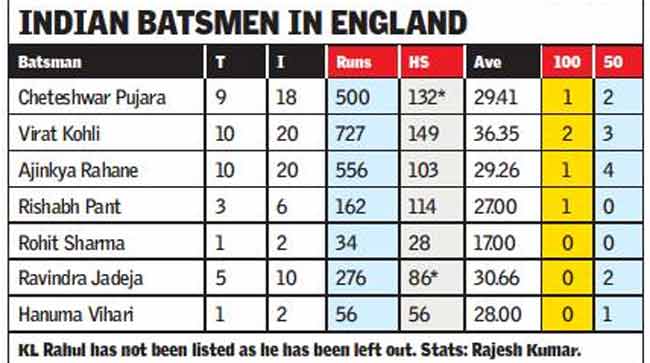 India have played 17 Tests in the World Test Championship cycle, winning 12, losing four, and earning a famous draw in Sydney. What will worry them is the fact that two of those defeats were bad ones to New Zealand in Christchurch and Wellington — in conditions that mirrored what they may encounter in Southampton.
If India are thinking hard about the pros and cons of opening with two players that have never opened in red-ball cricket in England — Rohit Sharma (one Test in 2014) and Shubman Gill (never played in England) — one would forgive them such procrastination. The other contenders don't offer much comfort. KL Rahul has lost his place and the team management's confidence. He endured a horror run the last time India toured England in 2018. Rahul managed to score 149 at The Oval, but by then the series was gone. Ashwin, Jadeja named in India squad for WTC final
Mayank Agarwal, another specialist opener, too has lost his place in the XI and has never played in England. Expectedly both have been left out of India's final 15 that was announced on Tuesday.
Vengsarkar feels in a one-off situation, there is no scope for any rotation. "Both Shubman and Rohit should play. Not having opened in England should not be a problem. Both have been doing well for a while. They are my first choice openers."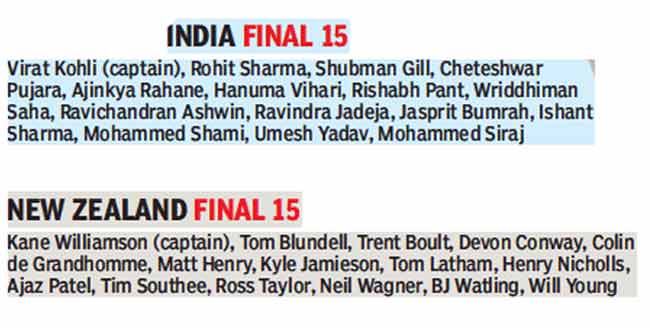 The lord of Lord's though has some advice for the batsmen. "Stay side-on and play the ball late. It will be an insurance if the ball moves late. Else, there is every chance of batsmen, who go for a big drive early on, edging it to slip or gully."
Vice-captain Ajinkya Rahane alluded to it a couple of days ago. "The more you play straight and close to the body, the better it is for you," he was quoted as saying on bcci.tv.
What about Hanuma Vihari? Having played county cricket for Warwickshire, shouldn't he be drafted in as a sixth batsman?

Vengsarkar thinks Vihari could be an attractive option, but he is biased towards playing five bowlers. "I feel if you are playing with four bowlers only, two of them must be able to pick five wickets in an innings. Ideally, your No. 6 should be somebody who can bowl seam. Hardik Pandya, sadly, is not there," he lamented and suggested that three seamers plus Ashwin and Jadeja should be India's preferred XI.
What about the engine room of the batting line-up? Cheteshwar Pujara, skipper Virat Kohli, and deputy Rahane. All three have hundreds in England. Rahane and Pujara have the benefit of county experience too. But, it's been a while since runs have flown from their willows consistently. Rahane's MCG ton and Pujara's stonewalling efforts coupled with Rishabh Pant's heroics were crucial elements in the series win in Australia, but in a one-off shoot out, sans too much practice and warm-up games, can they deliver?