NAGPUR: A day after being humbled by Saudi Arabia, India rallied splendidly to survive a tough Palestine test 79-77 in their final qualifying game of the
FIBA
Asia Cup in Jeddah on Saturday.
With this stunning come-from-behind victory, the Indian men's
basketball
team ensured they are in race to be among the best in Asia. They will now be waiting for the result of Sunday's last qualifying game between hosts Saudi Arabia and Palestine.
In their do-or-die game, India failed defensively but regained the momentum in the final quarter. While Palestine led the game for 34.10 minutes, India's excellent play in the dying stages helped them seal the issue by two points.
Amritpal Singh in action. (Pic credit: FIBA.com)
Defensive lapses in the early stage of their second outing proved costly for India as lower-ranked Palestine scored 13 unanswered points and went 20-7 up in the first quarter. Thereafter, the experienced Indian cagers tried to make their way back and played their hearts out in the final period to pocket their most crucial win.
The quarter-wise progress in India's favour read 13-25, 23-21, 16-15, 27-16.
While India managed to win the battle of boards 40-39, their shooting was way better 38-22 from the paint.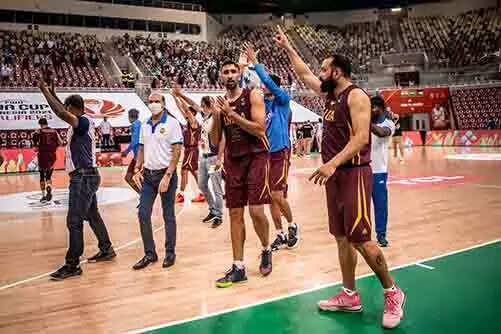 Indian players celebrate. (Pic credit: FIBA.com)
The lanky Indian duo of Amritpal Singh and Amjyot Singh combined well to score 53 of the 79 points scored by the team. While Amritpal scored a team-high 30 points, Amjyot added 23 as Joginder Singh (12) made most of his outside shooting to contribute and young Sahaij Sekhon (7) utilized his speed well.
A valiant effort from Palestine's professional players Kyndall Dykes (32) and Sani Sakakini (22) went in vain.
India's star performer Amritpal Singh said, "Yesterday we played very badly, but our coach brought all of us together. It was a do-or-die game for us and everyone played together and played hard to win this game."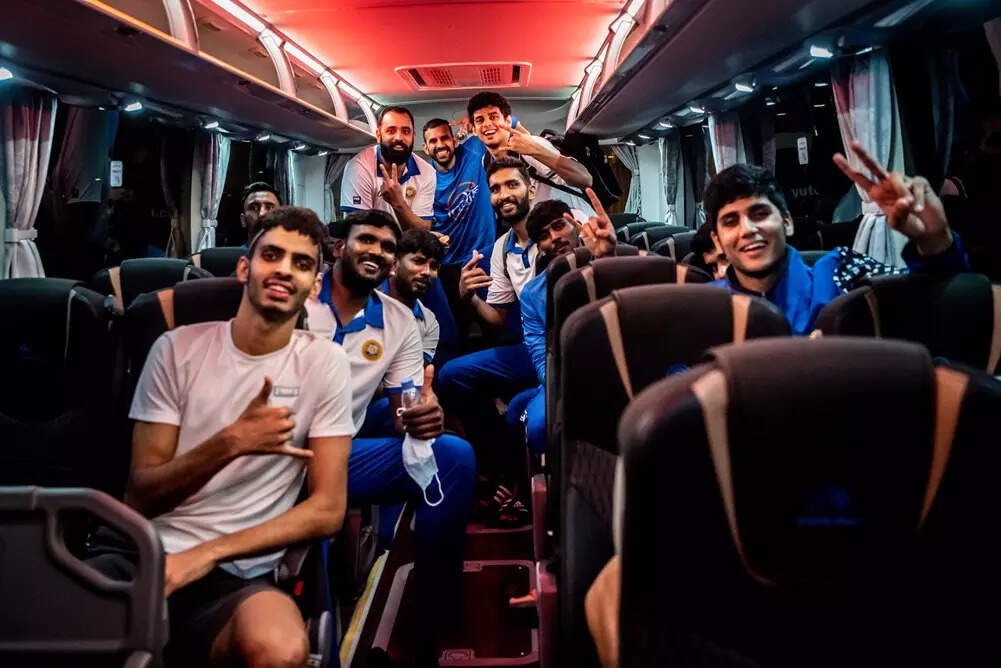 Indian team in bus after the win. (Pic credit: FIBA.com)
With India on waitlist for their progress in the Asia Cup, an elated national coach Veselin Matic from Serbia added a bit of tennis in his post-match comments. "Here we are in a situation of playing a tennis match. Today was the second set of a tennis match. We are playing a three setter. We will see tomorrow who will succeed. I really appreciate my players for fighting back. It's very difficult to come back in such a game. Players consistently followed our instructions and with some luck, we won this game. Sometimes in basketball, if we fight, we get such a gift," Matic told TOI.
RESULT: India (Amritpal Singh 30, Amjyot Singh 23, Joginder Singh 12, Sahaij Sekhon 7) bt Palestine (Kyndall Dykes 32, Sani Sakakini 22) 79-77 (13-25, 23-21, 16-15, 27-16)