In conquering the English conditions and bowlers,
Rohit Sharma
(127; 256b, 14×14, 1×6) primarily conquered himself.
SCORECARD
Some batsmen may not take naturally to Test
cricket
in their initial years but there is no escaping the desire to prove oneself in the format. Rohit Sharma would not have been a lesser batsman even without scoring an overseas Test hundred, but then this is what Test cricket does: it attracts the best and then throws them a challenge they cannot resist.
If you take the bait, Test cricket can wring the best out of you, inch by painful inch, until your glorious potential is revealed. This is what happened to Rohit Sharma at the Oval on Saturday.
India took the cue and rode his coattails. A major opening stand followed by a 153-run partnership between Rohit and a rare, buoyant Pujara (61 off 127b; 9×4) put India on the ascendant until the second new ball was taken.
When bad light forced an early stumps on Day 3, India were 270/3 in their second innings, a 171-run lead with Kohli and Jadeja out in the middle. They may need a few more to feel in the safe zone.
Eight years of waiting for a first overseas hundred is time enough to plant the seed of doubt even in the best. For a few years now firmly in his past, the change in the colour of the ball from white to red had started to haunt Rohit away from home.
Even though not averse to playing pace and bounce, for years Rohit kept floundering in bowler-friendly conditions abroad, looking especially shaky when the ball swung.
Now this is a batsman of elegant timing, languid grace, poetic presence and deceptive power. For a top-order batsman who can both soothe and savage, he is a rare talent worthy of the biggest stage and toughest format. It is baffling what took him so long to score that first overseas ton. Now that he has done it in the toughest of places, England, it would have given him great satisfaction.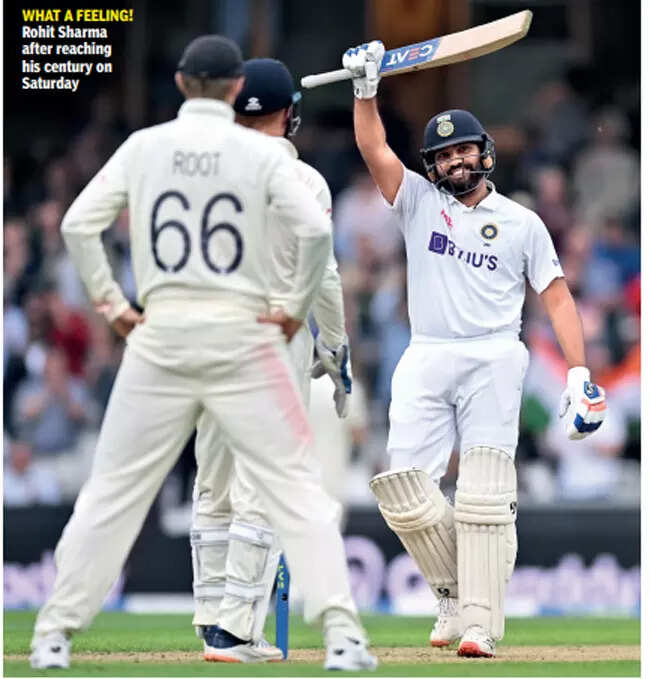 Perhaps Rohit realized that a batsman of his powers could not leave behind merely a white-ball legacy, in spite of his stratospheric highs in those formats. Maybe, till now he lacked the ruthless self-denial necessary to carve out one's presence in away Tests. On this tour, he decided he would offer less and earn more, and everyone could see the big one coming.
He batted for three hours and a bit and 145 balls for his half-century alone. His eighth Test century off 204 balls was his slowest. Sure, he was lucky to be dropped twice by Burns at second slip. But Rohit, an extravagant strokeplayer, reined himself in on the off-side and instantly became more compact, in complete control of his defence.
He played straight, closeted the pull shot that has been undoing and was a picture of frugality until well past his halfcentury. Through it all, he managed to look graceful, assured and comfortable.
His day began with an exquisite straight drive off Anderson. The century came up with a disdainful six of Moeen, dancing down and carting the spinner over long on. That shot was Rohit exhaling after hours and hours of self-control. This was the moment, at 94, when he let instinct take over!It was the third time he has gone to three figures with a six, but this one was special. By the middle of the third session, Rohit was toying with the likes of Root, opening the face of the bat and timing balls through mid-off. In between, he guided Anderson past mid-wicket for four, slashed and slog-swept Moeen, and punished a stray Overton.
The end, when it came, was brought about by that instinctive miscued pull, off Robinson immediately after the new ball had been taken, the shot he had worked so hard to rein in. Five balls later and Pujara too was gone.
Rohit wasn't the only one playing out of character, and until Robinson got one to seam back in and take the inside edge, Pujara delighted with the kind of bubbly innings he is capable of and should play more often.