He may be one of India's premier Test batsmen but
Ajinkya Rahane
has never had it easy. Nature designs some cricketers and their circumstances that way. Not for him the rosy fluency of a
Virat Kohli
or the jaw-dropping strokeplay of a Rohit Sharma. Even the celebrated stoicism of a Pujara has proved elusive.
Instead, he is only Rahane, sans all adjectives, completely shorn of the usual star-cricketer swagger, stripped to the essentials. Bat in hand, he will fight. Stare his adversity in the face. Ride out the storm. Bide his time. And come back and do it again if it doesn't work out the first time.
Rahane's first two balls in Tests back in 2013, when he finally got a game after an infuriating wait, tell the story. The first one from Siddle swung in, leading to a huge LBW appeal. The second was an ugly snorter which hit Rahane flush on top of the helmet. This was no fairytale debut. He lasted 22 nervous minutes and was out for seven.
The trial by fire continues yet here he is, more than eight years later, still surviving, occasionally floundering and on that very special day, thriving and blooming. And always staying relevant by eking out crucial runs when the team needs them the most.
Rahane is the 11th highest Test run-scorer worldwide since his debut. He averages 44.44 away from home. He is the top rungetter for India in the WTC cycle (since August 2019), scoring at 43.80 from 17 Tests with three centuries. Two of those have come away from home, where he has averaged 45. All of his fifties and tons have led to India victories in this period. His 112 as captain in the Boxing Day Test last year shifted the WTC Final spot India's way and quickly became the stuff of cricketing folklore.
There has been no century since then, through his last 11 Test innings, leading to the painful questions about Rahane's place. Since the start of 2020 he has averaged 27.70 from 18 Test innings. In 2021 he averages 19.90 from 6 Tests, his worst in a calendar year. His average in England is a paltry 29.26.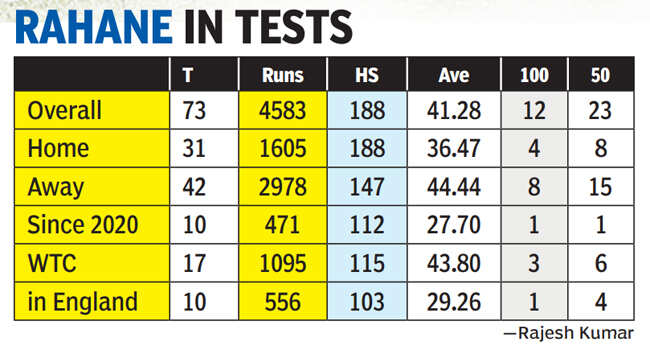 Even so, from Antigua to Ranchi to Melbourne, Rahane has scored when it mattered. He has experience of playing in Southampton and for Hampshire. There can be no doubt he is a crucial cog in the Indian batting wheel in the World Test Championship Final, which is likely to whittle down to a battle between the swinging Kiwi pacers and India's batsmen on a fresh, early summer English pitch.
Not much of a talker, Rahane revealed on Wednesday that the constant inquisitions have taught him a painful lesson: cocoon yourself from the criticism and the noise. "It's a mental thing. I don't want to put myself under pressure. I don't think about criticism. I feel because of the criticism, I am here. I want to give my best whether people criticise me or not. I always focus on the controllables and the result follows."
Rahane knows there will be no c h a n c e f o r comebacks in this one-off tussle. "It is the responsibility of the batting unit to come good. They will play a key role. We have our own individual plans. I will be playing my natural game. It doesn't matter what my personal record is in England. I like to be in the present. As long as we are winning, the past doesn't matter."
If the chips are down and India are in early trouble, who better than Rahane to wipe the slate clean and start afresh?