NEW DELHI: Liverpool, rice cooker, Olympic medal. How is that for a combination? Odd, right? But nine years ago, it worked like a recipe for star Indian boxer MC
Mary Kom
. She trained for the 2012
Olympics
in Liverpool, cooked rice in London, like at home, and went on to create history inside the
boxing
ring.
Women's boxing made its Olympic debut at the 2012 Games. By then, winning gold was already a habit for the then five-time amateur world champion Mary Kom. The Olympic bronze went on to make her career more 'magnificent'. She truly became 'Magnificent Mary' from India.
Before London 2012, Mary was already a household name in the boxing world. She got married in 2005 and became a mother to twin boys in 2007 (she has three sons in all), but that didn't stop her from clinching gold, including three more World Championship titles — in 2006, 2008 and 2010 — before the Olympics.
Mary's qualification for the 2012 Olympics and her eventual bronze in the Games have an interesting coincidence.
Mary returned from the 2012 World Championships in China without a medal. It was the first medal-less run for her in the tournament since it began in 2001. Also, Mary had changed weight categories to compete in the 51 kg, because women's boxing in London didn't have Mary's favourite 46kg or 48kg divisions.
Mary Kom's 🇮🇳 Journey to Boxing Bronze at London 2012 | Athlete Highlights
Mary met UK's Nicola Adams in the quarterfinals of the World Championships and lost. But because Nicola went on to reach the final, Mary was assured of an Olympic berth. However, as fate would have it, it was Nicola again who restricted Mary to a bronze at the London Olympics by beating the Indian in the semis.
Mary's was India's only entry in women's boxing at the 2012 Olympics.
"It has been a long journey. I had been training with perseverance all these years to reach the Olympic podium. It really involved sacrifice and a strong determination to keep me moving," Mary said talking to Timesofindia.com.
Image credit: Mary Kom's Twitter handle.
Before August 8 arrived in 2012, Mary had chalked out a plan. The rice cooker had always been part of Mary's preparations, but this time she decided to do the cooking in Liverpool, before the Olympics opened in London.
"I had gone 15 days in advance to Liverpool to train and get acclimatised," said Mary going down memory lane. "I have always carried my own rice cooker and cooked my own stuff that I am used to eating at home, and it was quite similar at that time too."
Loyalty, Hard work, Patience…and don't fear to chase your dream. https://t.co/7npOYbpIyq

— Mary Kom OLY (@MangteC) 1623744079000
Four boxers in the women's flyweight event in London received a first-round bye. The rest of the eight had to fight each other in the pre-quarterfinals. Mary was part of those eight and had a tougher road. She had to win two matches to be assured of a medal.
The first one was against Poland's Karolina Michalczuk, on the birthday of Mary's twins.
It turned out to be a slugfest.
Karolina had the reputation of an aggressive boxer, and when Mary lost her footing in the first round, hearts on the Indian side sank. But a comeback from the five-time world champion ended it on an even keel at 3-3.
The bout continued to be a blow-for-blow affair, but Mary managed to stay ahead of her taller opponent to take the round at 5-4.
The next round saw the best of Mary as she launched an attack early to peg the Pole back, who landed a few scoring punches towards the end of those two minutes; but by then Mary had done enough to win the round comfortably at 7-3.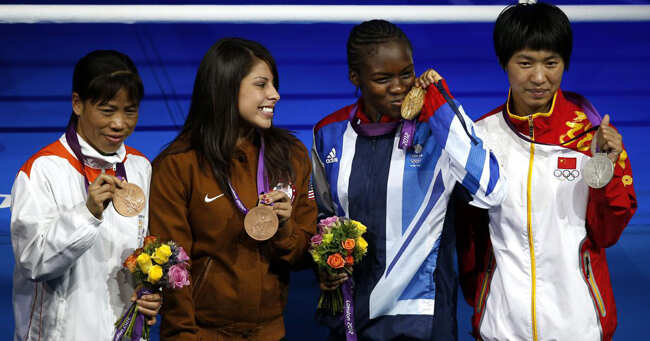 Image credit: Reuters
The last two minutes of the four-round battle finished at 4-4 to confirm a close 19-14 win for Mary Kom — now a win away from securing an Olympic medal.
"My first bout was very crucial as I faced a strong opponent. I got multiple injuries all over my body. The next morning when I woke up, I found myself heavy and painful because I didn't have enough time to recover from my injuries (blows)," said Mary.
The quarterfinal against Tunisia's Maroua Rahali was that very day. Mary had no time to recover.
"I had to return to the ring for my quarterfinal bout. I was, for a moment, not mentally ready, but my passion and determination to win a medal at the Olympics gave me strength," she said.
Rahali was not as decorated as Mary's round-of-16 opponent Karolina, who was the 2008 bantamweight world champion. and also the flyweight bronze medallist from the 2012 World Championships in China, from where Mary had returned medal-less.
MC Mary Kom on #JeetengeOlympicsAce Indian pugilist @MangteC became the first Indian woman boxer to win an Olympi… https://t.co/JeFHv5fTGk

— SAIMedia (@Media_SAI) 1621861617000
But Rahali had the advantage of height against India's pocket-size dynamo. That, however, didn't come into play.
Mary almost toyed with the Tunisian, first sorting her out in the opening round, then upping the ante in the second and finally softening up her opponent with an all-out attack in the third.
The writing was on the wall as the bell rang to signal the start of the fourth and final round. At the end of it, the scoreline read 15-6 in Mary's favour.
After Vijender Singh in 2008, as the first male Indian boxer to win an Olympic medal, India would now also have a woman boxer on the Olympic podium.
Four days after shuttler Saina Nehwal became the second Indian woman after weightlifter Karnam Malleswari (2000, bronze) to win an Olympic medal, Mary Kom joined the list at No. 3.
Saina won a bronze at the London Olympics, while the colour of Mary's medal was yet to be decided.
By then, Mary's husband and her mother had joined her in London.
"There were not many Indians (in the arena) except my family, my coaches and a handful of Indian journalists. This was the first-time women's boxing was being introduced, so not many people expected much from us," said Mary.
A familiar foe in UK's Nicola Adams waited for Mary in the semis.
Nicola won a silver at the 2012 World Championships and looked every bit as hungry to go for gold on the bigger stage. Plus, she had a vociferous home crowd rooting for her.
Like Mary, Nicola too had progressed to the semis with a lopsided 16-7 win over Bulgaria's Stoyka Petrova.
"I never get nervous before bouts but that day, I don't know what was happening to me. I can't even explain it," Mary had told PTI upon her return from London.
Nicola, another taller and aggressive opponent, had Mary on the ropes and often in retreat mode.
She was in the lead by three points (5-2) at the end of the second round and kept the pressure on Mary with relentless attack. At 8-4, going into round four, Nicola could almost see her place in the final.
Nicola's reach made her jabs and hooks more effective than any that Mary attempted. And when the Briton did an 'Ali Shuffle' in the dying moments of the bout, she paid her tribute to the legendary Muhammad Ali before the bell rang to mark her entry into the gold-medal match.
Mary had to settle for the bronze, but it was a historic medal.
"The venue was electric, and it was an experience all the way. Winning the first-ever Olympic medal for India in women's boxing was history. The whole team and the coaches were happy and in celebration mode," Mary told Timesofindia.com.
Upon her return to India, Mary admitted that the atmosphere in the semis "affected" her.
"I was not attacking as much and maybe it was the crowd also which was cheering (for) Nicola. I generally don't get affected by how the crowd is behaving but probably in the semifinals, it affected me," she had told PTI.
At the podium, it was flashback time.
"My children were not there with me at that point in time. My husband has always been my strength and was there along with my mother. It was like a flashback that I had all my life in front of me standing there."
And Mary will pack these memories and take them to Tokyo because, she says, it makes her stronger.
"Memories do not make me nostalgic. They make me more determined and resolved in my aim and desire to win gold at the Olympics in Tokyo. I will give it my best shot," the champion told TimesofIndia.com.