NEW DELHI:
Lovlina Borgohain
became the third Indian boxer, after
Vijender Singh
in Beijing 2008 and
Mary Kom
in London 2012, to win an Olympic medal, when she bagged a bronze medal in the women's Welterweight category at the
Tokyo Olympics
. But she wasn't satisfied with her performance. Her main aim was to win a gold medal for the country.
She exulted in celebration when she won her quarterfinal bout against Chen Nien-chin of Chinese Taipei, assuring India a medal. But the Indian boxer soon shifted her focus towards the semifinal bout against Busenaz Surmeneli of Turkey.
But things didn't go the way Lovlina planned in the semi-final bout, as she lost 0-5 to the Turkish opponent.
Lovlina is now determined to change the colour of her medal at the Paris Olympics in 2024.
TimesofIndia.com caught up with the Indian boxer to talk about her Tokyo Olympics experience, conversations with Mary Kom and Vijender, her plans for the Paris Olympics in three years time, and much more.
AFP Photo
How does it feel when people call you an Olympic medallist now?
It feels great. I have enjoyed the entire Tokyo Olympic journey. But I am not fully satisfied with my performance. My dream was to win a gold medal. So, this journey was incomplete for me. But I am happy that I didn't come back empty-handed and managed to win a medal for my country.
What is the atmosphere like back home?
I didn't go home. I went to Guwahati, Assam. My father came to welcome me. My mother isn't well so she couldn't come. I never expected I would witness such a welcome in my life. I was so emotional.
After Vijender Singh and Mary Kom, you are now the third Indian boxer with an Olympic medal…
It feels good. They (Vijender and Mary) are legends of the game. I just want to perform and win as many medals for my country (as possible).
Did you speak with Mary or Vijender after you won the bronze medal?
They were so happy. They congratulated me. They wished me good luck in the future. They said to do well in the future as well.
What went wrong in the semifinal bout?
I couldn't apply the strategy I had made for the bout (semis). She (Surmeneli) was physically stronger than me, not technically. I am confident that I will be able to beat everyone, including her in the near future. I understood my shortcomings and I learned from those. This is good for me, I can prepare well for upcoming tournaments.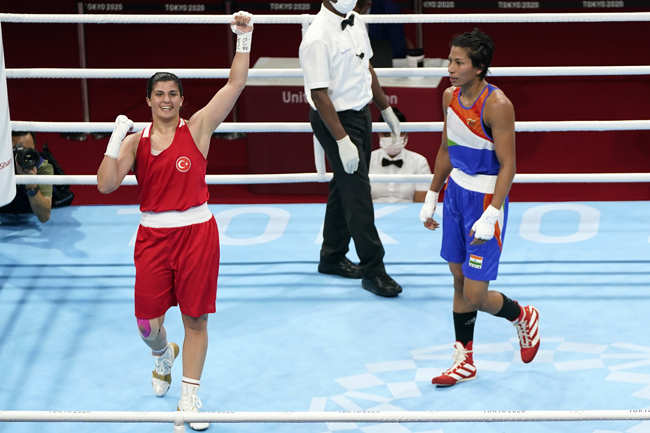 AP Photo
With Indian boxers having already won two boxing bronze medals in the past, did you think you could maybe win a silver or gold for India this time?
I gave my hundred percent in the semifinal. I was not physically stronger (than the Turkish boxer). My practice had also been affected due to COVID-19 and the lockdown. I also tested positive for COVID-19. The training was not that good. I accept the fact that I didn't fight well in the semifinals. These Olympics are done, but I am confident that I will not leave a single stone unturned for the Paris Olympics.
What will your plans for the 2024 Paris Olympics be?
I have to start from scratch now. I don't want to miss a single thing in terms of practice or training. Ahead of the Olympics, I want to focus on the Commonwealth Games, Asian Games, and World Championships. I want to test myself in these tournaments. My ultimate aim is to win Olympic gold in Paris. I am eager to change the colour of the medal.
Anything special that you will add to your training regime?
I will go the scientific way. I will take the help of sports science.
How did you take up boxing and what was the support from the family like?
My family has supported me a lot in my career. We were not that well off financially, but the support was so strong from my mom and dad. They never said no to anything. Initially, I was learning mixed martial arts, kickboxing. I opted for boxing because I wanted to represent my country at the Olympics. When I entered the Sports Authority of India (SAI), I used to get all the facilities. I never asked anything from my family, because the condition (financially) of the family wasn't good.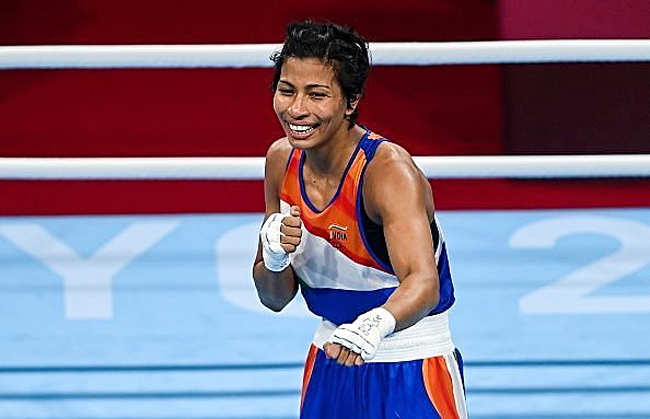 ANI Photo
Despite a strong squad, India won just 1 boxing medal in Tokyo. What is the reason for that according to you?
We were all well prepared. I think it all happened due to COVID-19 and lockdown. Ahead of the Olympics, many members of the boxing team tested positive. This is one of the reasons.
All three of the Indian Olympic medals won in boxing so far are bronze. Why do you think the semis are a big obstacle to cross? Is the satisfaction of confirming a medal or distraction possible reasons for missing out on a final berth?
No. I don't think so. When I won the quarterfinal bout, I didn't enjoy it. Yes, I celebrated my win inside the ring because the stress wasn't there. My only aim was to win the gold medal. And, the aim will remain the same in the next Olympics as well. My phone was also switched off. I didn't interact with anyone. My focus was just on the game.