NEW DELHI:
Boxing
star
Vijender Singh
might have made the transition to professional boxing, but his exploits as an amateur boxer, representing India, are still talked about. He is still India's only male boxer to have won an Olympic medal. Vijender's 2008 bronze at the Beijing Games was a watershed moment for Indian boxing overall.
Over the years, India had produced many very talented boxers, but Vijender's 2008 bronze put him, Indian boxing, along with Bhiwani, India's boxing nursery firmly on the world boxing map. MC Mary Kom's bronze in 2012 further boosted India's boxing image.
The 2016 edition of the Olympics was a disappointing one for Indian boxing. No Indian boxer won a medal in the last edition. This time the nine boxers who have made the Olympics cut seem determined to write a new script.
The 35-year-old Vijender, who has represented India is as many as three Olympics, spoke to TimesofIndia.com about the chances of Indian boxers at the Tokyo Olympics, which boxers he feels have the best chance of winning medals this time, his own Olympic journey, memories of the 2008 medal and much more.
EXCERPTS:
How does it feel when you recall your 2008 Beijing triumph?
Beijing is my best memory. Before Beijing, no one knew me. They used to come and say 'hello'. That's it. But the Beijing medal gave me everything. It gave me name, fame and glory. It was my ultimate aim to win an Olympic medal and I did it in 2008 for my country. I am happy that I made my country proud. It was a dream come true. But I didn't stop there. For that was a step forward and I wanted to move ahead in life and achieve more.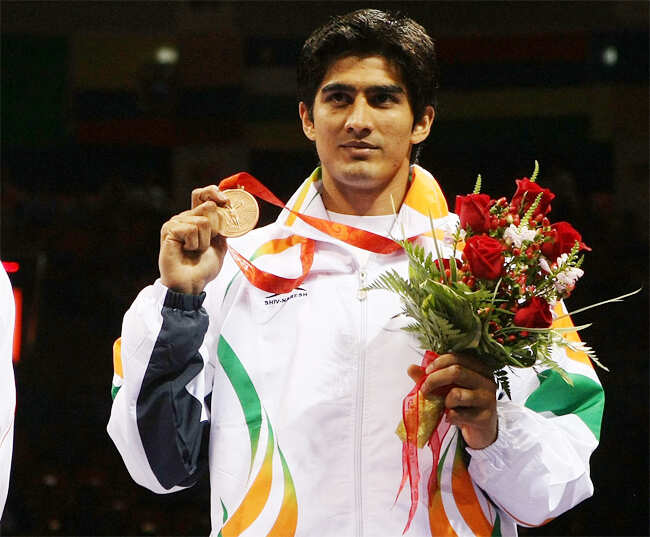 Vijender Singh (Photo credit: Nick Laham/Getty Images)
How highly would you rate India's medal chances this time in boxing?
We have a very good team. They have experience. They have talent. The chances are very good for Indian boxers to win medals in Tokyo.
If you have to pick one Indian boxer who can bring back a medal this time, who will that be?
Mary Kom in women's. Manish Kaushik in men's.
Realistically, how many medals can India win in boxing in Tokyo?
India will win two boxing medals at the Tokyo Olympics.
Mary Kom won the bronze medal at the London Olympics. You think she can pass the Tokyo test with flying colours in what will be her last Olympic appearance, finishing on a high in her last Olympics…
She will. She is a strong woman. I won't be surprised if she continues to box after Tokyo as well. She is an inspiration to many. She knows what Olympic pressure is and I am sure she will perform well. Her experience will be with her and will help her.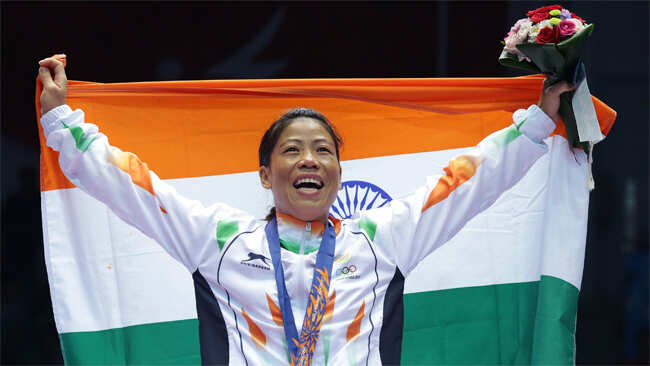 Mary Kom (Image credit: Olympics.com)
Do you think Mary will be under a lot of pressure to win another Olympic medal?
No. I don't think so. She knows how to handle pressure and she will do well in Tokyo.
Among the women boxers, who else would you pick as potential medal contenders?
Apart from Mary, Simranjit Kaur is a good medal prospect.
A lot of hopes are pinned on Amit Panghal and Vikas Krishan. Your take on their overall development as boxers and chances this time…
Both Amit and Vikas are experienced. If I talk about Vikas, he has already represented India twice at the Olympics. That experience will help him a lot. Amit is in very good touch and he is a southpaw. Being a southpaw is an added advantage for Amit. His reach for his punches is very good.
And you also feel Manish Kaushik is a dark horse contender for a medal…
Yes of course. I remember my time. Everyone was betting on Akhil Kumar. But an underdog like Vijender Singh was the medallist. I hope Manish surprises people in Tokyo.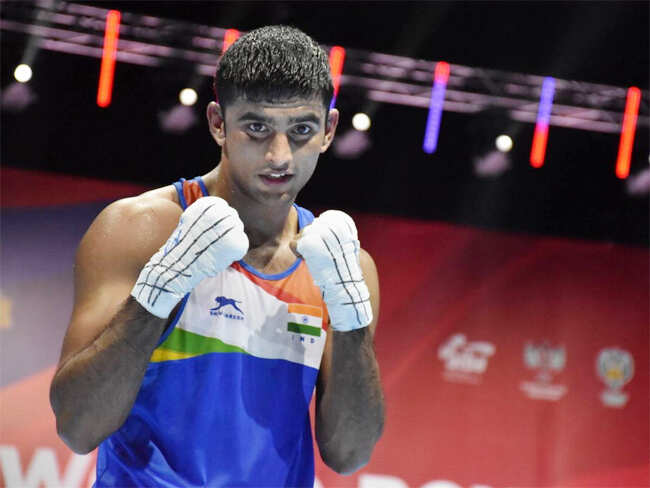 Manish Kaushik (PTI Photo)
As an Olympic medallist, how would you define Olympic pressure?
It is the biggest sports carnival on the planet. It happens after every four years. That's why it requires a lot of preparation. There is a lot of pressure on athletes. Everyone has a target of winning a medal and giving their 100 percent. Some flop and some shine. You have to be good in every sense. You are representing your country and there are billions of hopes riding on your shoulders. Of course, there is pressure.
PV Sindhu won a silver medal in Rio. Can she win another medal in Tokyo and match wrestler Sushil Kumar's record of winning two individual Olympic medals?
Sushil is a legend. What he has done in life, no one has achieved that. Winning two Olympic medals is a huge huge thing. If someone else achieves that and matches his record, it will be huge. I pray Sindhu wins another medal and matches Sushil's record.
There is a school of thought that India will come back with the maximum medals they have ever won at an Olympics from Tokyo. Your take on that…
Hope for the best. There is a saying ' umeed pe duniya kayam hai'. So, let's hope for the best.
Which sport can win the maximum number of medals in Tokyo for India in your opinion?
Wrestling and boxing.
After 12 wins in pro boxing, that had 8 knockout wins and 4 by decision, you lost the 13th. What went wrong in that bout according to you?
My team wasn't with me at that time. They were in the UK. I missed my team. The team is very important.
How big an impact would you say your Beijing Olympics medal had on boxing in India?
Results matter. I performed that's why people know me. Otherwise, no one would have recognised me. I just gave my best and was determined to do it. There are many youngsters who took up boxing after Beijing's success. I am so happy that the craze started then. I just want to wish these youngsters all the very best.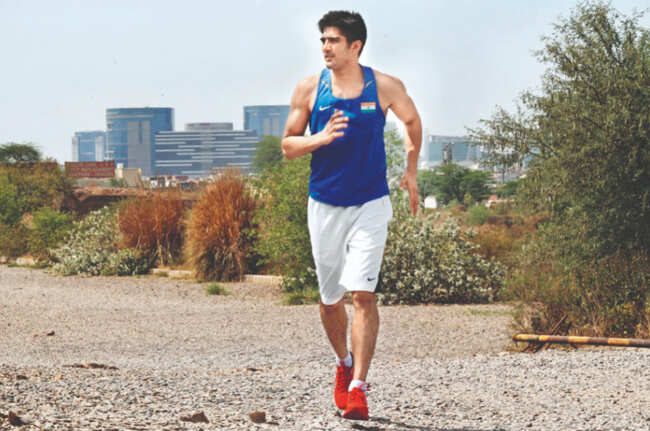 Vijender Singh (TOI Photo)
How much did India's boxing nursery Bhiwani's image change after you won the Olympic medal?
Youngsters love pro boxing these days. Because of the glamour. I am hoping that in the near future we have a world champion in professional boxing. You will see a world champion soon. Bhiwani has changed because of the Beijing medal (2008). Now people say 'this is Vijender's Bhiwani'. I just love it. I am happy that people know Bhiwani because of me.
Your message for Indian fans who are expecting very big things from the Indian contingent this time in Tokyo…
Just cheer for our athletes and keep supporting them.