NEW DELHI: Sometime in 2017, a quiet 10-year-old kid would almost daily accompany her mother and sister to the
shooting
range at the Guru Harkrishan Public School in Delhi's Punjabi Bagh. The bespectacled
Naamya Kapoor
would diligently observe her elder sibling, Khushi, go about her routine. Naamya would hardly say a word, but the observant eyes of coach
Sabir Khan
were quick to scout a special talent. About five years and a pandemic later, the now 14-year-old Naamya left star India shooter
Manu Bhaker
behind to surprise the world of shooting with a gold medal in the girls
25m Pistol
event at the ISSF Junior World Championships in
Peru
.
At the Las Palmas Shooting range in Lima, Peru, Naamya first secured a spot in the final, after securing a sixth place with a total of 580 after two stages of qualification, and then shot 36 out of 50 to scorch the medal round. In her first 20 shots, Naamya missed just three and eventually ran away with gold on her international debut.
Naamya is now the youngest shooter from India to win an international medal.
Manu settled for bronze, losing a shootoff for second position to France's Camille Jedrzejewski.
"Woh kaha karti thi mujhse, 'sir ek din Manu Bhaker ke saath final khelna hai' (she used to tell me that one day she wants to stand and shoot in a final alongside Manu)," Naamya's first coach Sabir told TimesofIndia.com.
A national-level shooter himself and the elder brother of former international Zakir Khan, Sabir insisted Naamya's parents introduce her to shooting as well alongside her sister.
(Naamya, far right, with her first coach Sabir & fellow shooters at the Delhi State Championships – Photo: TOI arrangement)
After slight reluctance initially, the parents agreed and Naamya hasn't disappointed them since that day. While in sixth standard, she shot 373/400 in 10m air pistol during the Delhi State Championships to make heads turn at the Dr Karni Singh Shooting Range (DKSSR).
Naamya went on to add medals at the North Zone Championships and the National Championships in 2019. She made the cut for the national trials, where she finished second to get a junior India call-up.
"It feels great to hold my first international medal," Nammya said in her brief reply to TimesofIndia.com from Peru.
On her first call to her father, Praveen Kapoor, she asked for a gift, which brought out the kid in her.
"Ab to iPhone le kar doge (now, will you buy me an iPhone?), she asked me when I congratulated her," said the proud father when contacted by TimesofIndia.com.
That's a small gift for the little champion who has made the efforts of her parents every bit worthwhile.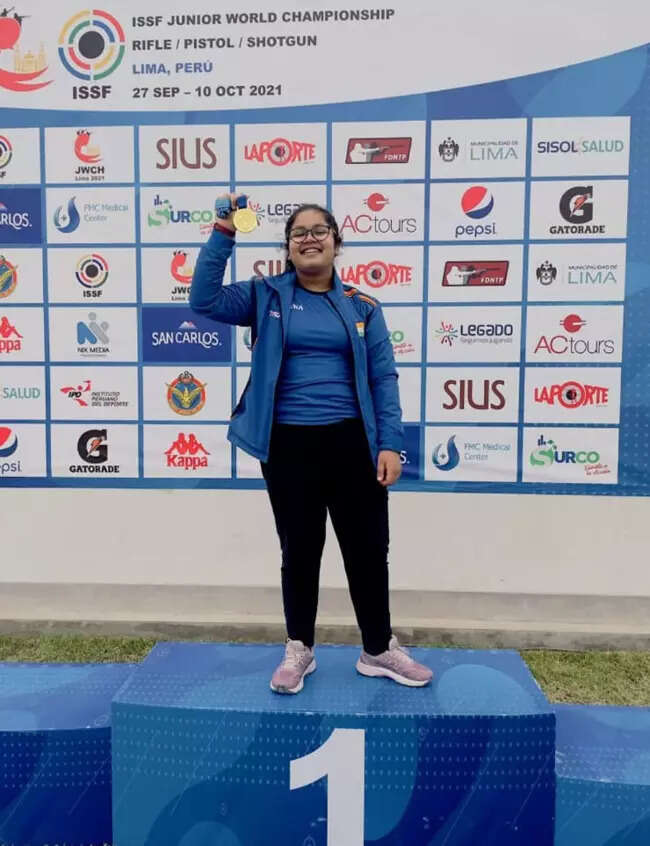 (Naamya at the podium in Peru – Photo: TOI arrangement)
After introducing both their daughters to sports pistol (25m) once they got a hang of the the air category in the latter half of 2018, training for two events every day became an arduous task. The two girls would go all the way from West Delhi to DKSSR for 25m practice and then come straight to the range in Punjabi Bagh for 10m training.
In between, they would travel outstation for open events, SGFI tournaments, school Nationals, GV Mavalankar Championship, Nationals and so on.
A businessman by profession, Praveen couldn't always take time out and hence the responsibility chiefly rested with their mother, Gunjan. At one point, the father assigned a car for them along with a driver exclusively for their travel related to training.
"It's the hard work of the children that pays off, we as parents just do our duty," said Praveen.
But Naamya's first coach Sabir had told Praveen something years back, which turned prophetic on Monday.
"Naamya had the muscles of a shooter right from the beginning. That was the reason I told her parents to let her try the sport. She hardly gets distracted and fires fearlessly. Those are her best qualities," Sabir further told TimesofIndia.com.
"I had told them (the parents), 'aap bas dekhte jao ye ladki kahan pahunchegi' (you just wait and watch what heights this girl scales)."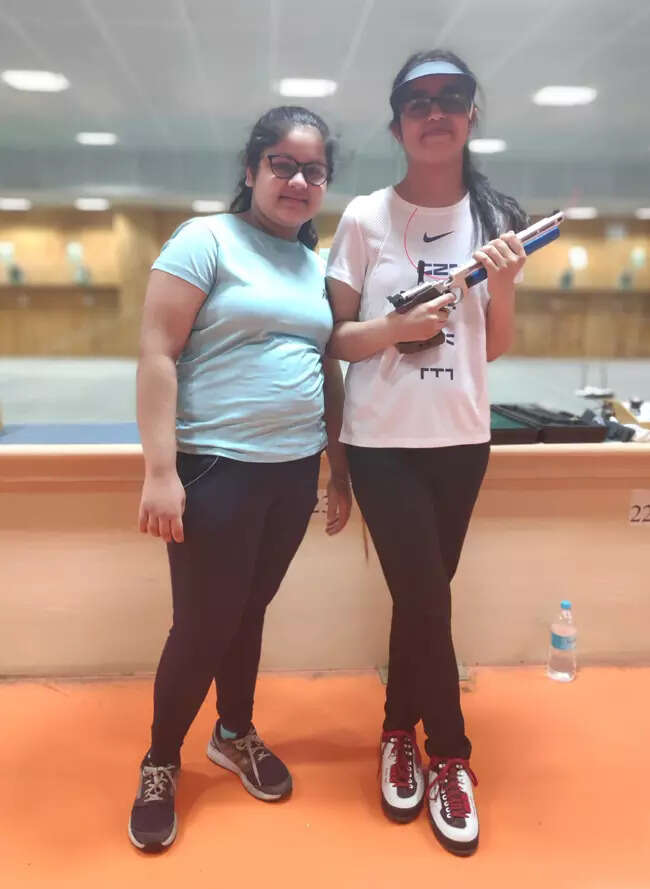 (Naamya with her elder sister, Khushi, at the shooting range in Jagatpur, Jaipur – Photo: TOI arragement)
NAAMYA'S OTHER SHOOTING CONNECTION
Little does the shooting world know that Naamya is also the niece of veteran rifle shooter Sanjeev Rajput, who is a three-time Olympian.
"It's a proud moments for my brother's family. Naamya's father, Praveen, and I grew up together. Now, she has done her parents and me proud. I congratulate our family, especially her parents. She is now a junior world champion," said Rajput when contacted by Timesofindia.com.
"We keep meeting whenever they travel to the Karni Singh range for practice. Soon, hopefully, I will be in the national camp with Naamya," he added with a smile.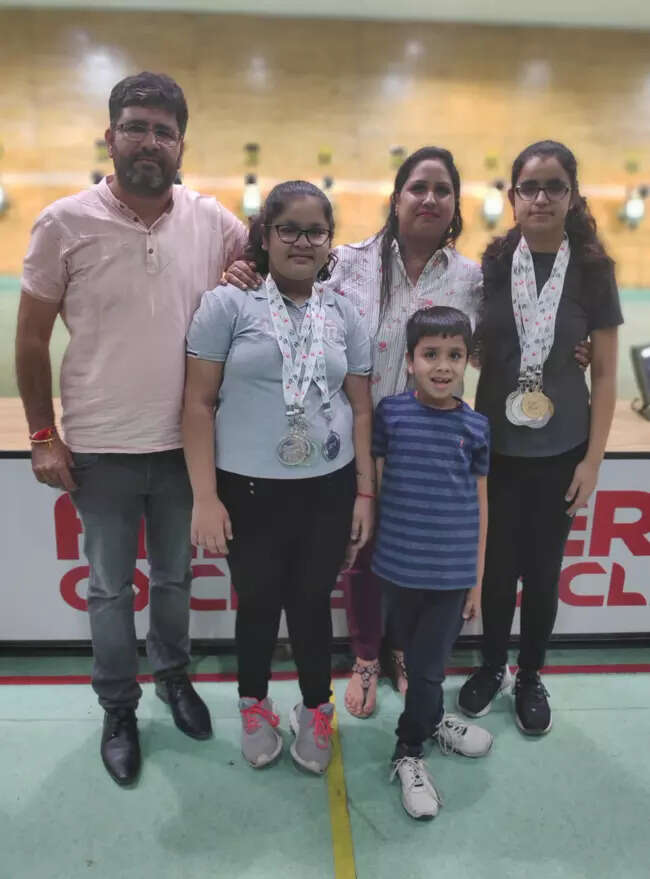 (Naamya with her parents, elder sister and younger brother at the shooting range in Jaipur – Photo: TOI arrangement)
In Peru, Naamya shot under the able guidance of India's junior pistol coach Jaspal Rana, who knows more than a thing or two about turning youngsters into champions. Naamya is the latest name on that list.
"She is a hard-working girl," said Rana talking to Timesofindia.com from Peru.
"I just work with these kids, just make sure they are well protected. When they make it to the team, they are already talented, know the technique. I just try to make them better," he added.
Also, Naamya's sudden rise adds to the competition within the national squad. Though these are still early days for the teenager, it's beyond any doubt that India's women's 25m Pistol discipline now has a fresh face throwing her hat in the ring. Too early to call for the Paris Olympics, but Naamya's surprise gold medal at her first international event has put her name alongside those of Manu and Chinki Yadav.