NEW DELHI: India's
Olympic gold
medallist
Neeraj Chopra
's family had planned a grand homecoming for star javelin-thrower son at their home in Khandra village in
Haryana
's Panipat district on Tuesday. Instead, the Tokyo Games hero had to leave the function midway.
Chopra was rushed to a nearby health centre after complaining of fever, dizziness and choked throat following a heat stroke, which saw his body temperature go beyond the 100-degree Fahrenheit mark. He was immediately administered a combination of paracetamol and electrolytes according to family sources.
It's been learned that Chopra felt uncomfortable after reaching Haldana village near Samalkha — close to his home — following a gruelling six-hour ride from Delhi to Panipat in a white SUV car with a sunroof.
During normal time, the journey would have taken roughly two hours to reach Khandra. But soon after entering Haryana, Chopra was forced to attend to several small and big
felicitation functions
during his taxing road trip back home on a humid Tuesday morning.
The huge crowd waiting for their hero ignored mandatory Covid-19 safety protocols. Sadly, the champion javelin-thrower himself did not put on a mask nor did he avoid the crowd.
Upon reaching Khukhrana village, some 5 km away from Khandra, Chopra first complained of uneasiness. He was felicitated with a silver spear by the village panchayat members there. However, during his grand felicitation ceremony in Khandra, the 23-yea-rold felt dizzy and complained of headache, following which he had to leave the function midway and was whisked away by his parents and family.
A source close to the Chopra family told TOI, "He should be fine after a good rest. We left the function as a precautionary measure. Every other day there is one function or the other. Then, there have been so many interviews with different media channels. He hasn't got a chance to rest.
"An athlete's body also needs rest, especially after an event like the Olympics. He has put in so much of effort. There are some rumours that he has been taken to a hospital. It is not true. He is feeling exhausted after attending so many functions on his arrival from Tokyo."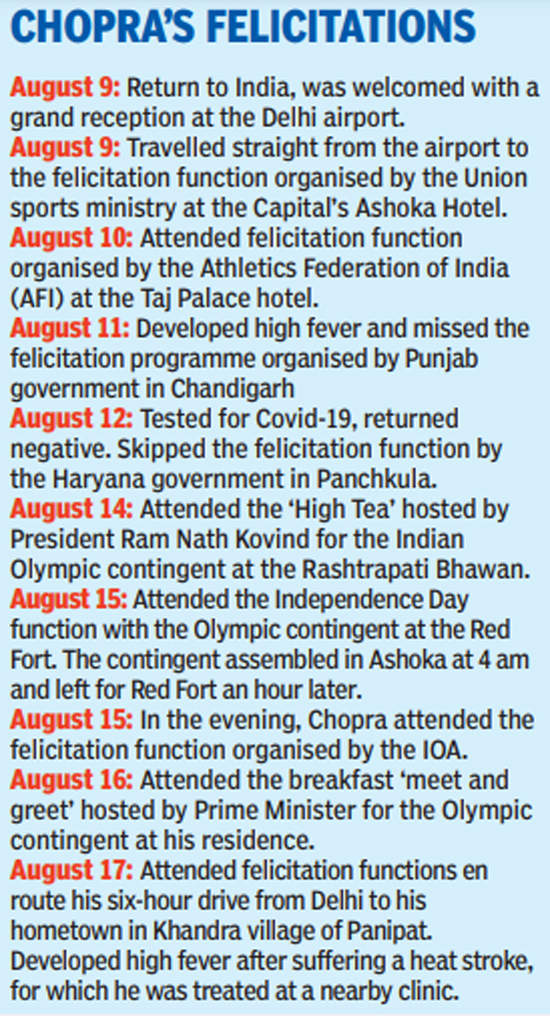 Neeraj and his family were later escorted to his home by the Deputy Commissioner of Panipat, Sushil Sarwan. He informed TOI: "There were more than 20,000 people who had come for the function. Everyone was rushing to get a selfie with Neeraj. It was chaotic. Neeraj was also slightly unwell and a bit overwhelmed, that's why he had to leave the function."
Ever since returning to India after clinching a historic gold in Tokyo, Chopra has been attending numerous felicitation ceremonies in the national capital. The endless functions have not allowed Chopra to even visit his family members and relatives in Khandra after returning to India on August 9.
It was exactly 10 days after his astonishing gold-winning effort on August 7 at the National Stadium in Tokyo that he was visiting his hometown.
After returning to India, Chopra, along with the men's and women's hockey teams, had been stationed at the Ashoka Hotel here, appearing in various felicitation functions — organised by the Rashtrapati Bhawan, Prime Minister's Office (PMO), Sports Ministry, Indian Olympic Association (IOA) and the Athletics Federation of India (AFI). Not to forget the innumerable interviews – some one-on-one – with news channels and websites.
Some news channel interviews were forced upon Chopra after the officials of the athletics federations received calls from the political higher-ups. In fact, such was the media and felicitation frenzy that Chopra had high fever last Friday as well, and was RT-PCR tested for Covid-19 at the hotel.
Luckily, according to the ministry and federation officials, his Covid report came negative. Chopra, however, had not recovered from the bout of fever and was taking medicines to attend the functions. He was forced to miss the Haryana government's felicitation function in Panchkula on Friday last where he was to be rewarded with a cash prize of Rs 6 crore.
His uncle Bhim Chopra had attended the function on Chopra's behalf while the javelin-thrower had joined in through video conferencing.
On Sunday, on the sidelines of the IOA's function in Ashoka, Neeraj had said he was feeling exhausted and that he was looking for a few days of rest.