On the opening morning of the
Tokyo Olympics
on Saturday, weightlifter
Saikhom Mirabai Chanu
became India's first medallist at the Games, winning a silver in women's
weightlifting
(49 kg). "It still hasn't sunk in," she tells us, and that's perhaps also because she traveled a long and winding path to get to this moment, battling both injuries and depression en route.
The "lowest point" of her life was the 2016
Rio
Olympics, she says, where as a medal prospect, she failed to register a successful lift in the clean & jerk section, finishing a disappointing 11th out of 12 competitors in the fray. "It hurt me a lot," recalls the young weightlifter, adding, "I had worked so hard to reach there and I missed a medal. I kept wondering how I missed. It was a low phase." But the worst was yet to come. Even after she made a comeback in the 2018 Commonwealth Games, a back injury put her out of action. The 26-year-old admits to feeling hopeless about her career then. She says, "I set a record there (Commonwealth Games Record) and things were looking good. But then I got injured. I lost all hope because I couldn't train. I felt I would never make a comeback; I would never lift again."
The weightlifter says the defeat in the 2016 Rio Olympics was the lowest point in her career
All this makes the 26-year-old's silver medal at the Tokyo Olympics all the more impressive. "This medal is my redemption. It has renewed my faith in my abilities," she says. Mirabai – who was welcomed at the Delhi Airport on Monday by a sea of supporters and media – spoke to us about her celebration plans, why she's still getting used to the win and more. Excerpts:
'Got my periods before my event in Tokyo. But I couldn't let that stop me'
The Manipur girl says she was battling some doubts going into the event. In an interaction post her return to India, the weightlifter tells us, "I got my periods a day before the event. It affects the body and I was nervous and scared. I had my doubts about my performance. But I decided I couldn't let this stop me from achieving my goal." The last few days have been a whirlwind of emotions for the Olympic medallist. Courtesy her silver medal-winning effort at the Tokyo Olympics on Saturday, she has become a household name. While she has been known in the sporting circles, the fame that an Olympic medal brings in India is new for her. She admits this will take some getting used to. "The Prime Minister called me," she exclaims, "I had never imagined in my life that I would one day receive a call from India's PM. I was so spellbound that I couldn't even respond to him initially. Sab se itni appreciation aur pyaar mil raha hai. I am not used to this par main bahut khush hoon."
'Mujhe pata nahi tha sabko pizza waali baat itni pasand aa jayegi'
She uses the term "dream come true" repeatedly while describing her triumph but admits the celebrations for realising this dream have been muted so far. "I did not celebrate immediately. The only thing I wanted to do was eat a pizza. I hadn't eaten one for so long because of my training and as I had to watch my weight. Toh jeetne ke baad sabse pehle maine Games Village mein pizza par attack kiya," says Mirabai with a laugh. Her love for pizza has become quite well-known with a pizza chain offering her free pizza for life. When we tell her that she is the country's unofficial pizza ambassador now, she laughs, "I just like pizza so I requested my coach if he would let me have it. Because of my training, I can't eat it often. Mujhe kya pata tha sabko baat itni pasand aa jayegi," says Mirabai.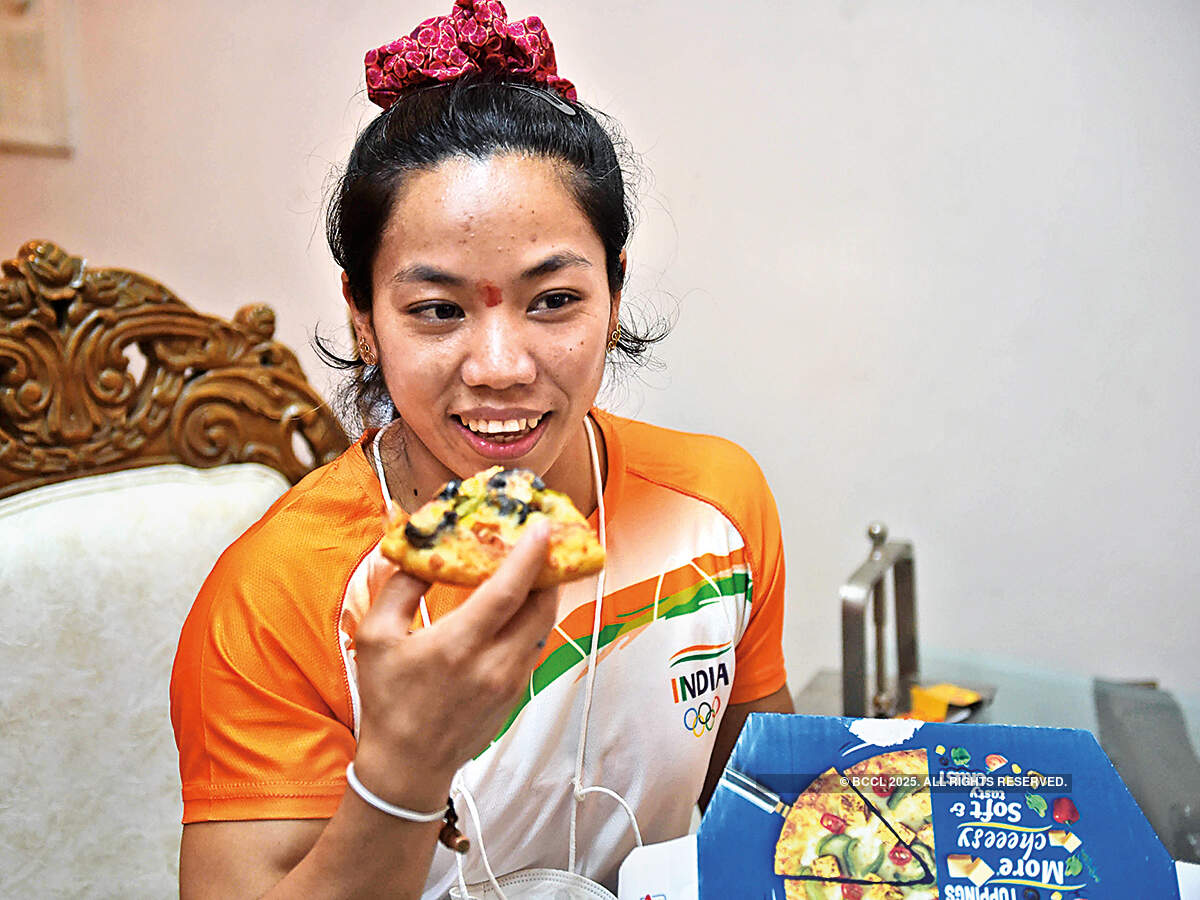 We caught the Olympic medallist feasting on her favourite food – pizza – during her brief halt in Delhi on Monday
'Told mother to give earrings, as it's hard to lift while wearing a chain'
Apart from the applause for her performance, many – including Anushka Sharma – have also praised her Olympic ring-shaped earrings. The earrings had been gifted to her by her mother prior to the Rio Olympics as a good luck charm and Mirabai says she always wears them. "I wanted a symbol of Olympics with me as a constant reminder of my goal," she says, adding, "I wanted an Olympic medal and I wanted that to remain with me always. So, when my mother told me she wanted to give me a chain, I told her to give me earrings instead. I don't like chains much. Lifting me problem karte hain. I love these earrings. Even after I lost in Rio, I kept them on because I wanted to have a reminder of what I was training for."
'I am as Indian as anyone else. I'm happy I could make my country and state proud'
Mirabai's triumph has highlighted a curious trend in India where people from the north-east are praised as having made India proud when they achieve something. However, people from the region are constantly subjected to racist jibes otherwise. Mirabai asserts her Indian-ness by saying, "I am as Indian as anyone else." But she dismisses the casual racism very matter-of-factly. "I'm just happy I could make the country proud and make my state Manipur and north east proud too. People are praising me. There will always be some who say something negative," says the Olympic medallist.