NEW DELHI: Is something going horribly wrong for Indian shooters in Tokyo?
Shooting was once again tagged as the sport that would possibly win the maximum number of medals for India at the Tokyo Games. However, the results so far have been well below par.
India were expected to win at least two medals in the mixed team events, which made their Games debut, especially going by how well Indian shooters have been doing in the event overall. The favourites in the mixed team pistol event –
Manu Bhaker
and
Saurabh Chaudhary
topped the Stage 1 Qualification of the 10m air pistol mixed team Qualification with a total score of 582 at the Asaka Range. But they only managed to finish seventh in Stage 2.
The other Indian pair of Abhishek Verma and Yashaswini Singh Deswal, in the 10m Air Pistol Mixed Team event, failed to clear Qualification 1 and finished in 17th place.
Things went from bad to worse when the rifle shooters suffered the same fat in their Mixed team event. The pair of Elavenil Valarivan and Divyansh Singh Panwar finished 12th with a total of 626.5 in the 10m Air Rifle Mixed Team event. The other Indian pair Anjum Moudgil and Deepak Kumar, in the same event, finished 18th with an aggregate score of 623.8.
All this followed the heartbreak of Manu Bhaker suffering a gun malfunction in the qualification round of the women's 10m Air Pistol event and failing to make the final and Saurabh Chaudhary topping the qualification round in the Men's individual event and then finishing seventh in the 8 man final.
The shooting fraternity by and large stood by the shooters in Tokyo, but as one poor result followed another, questions are being asked about the overall preparation for the Olympics.
Indian shooter
Joydeep Karmakar
, who represented India at the 2012 London Olympics and missed out on a medal by a whisker in the Men's 50m rifle prone event, finishing fourth, called India's performance in the mixed team event a 'disaster'.
India's Manu Bhaker. (PTI Photo)
"That's a disaster. I had said we will win two medals in mixed teams and if that doesn't happen, it will be a disaster. I am still sticking to that statement – it is a disaster," Karmakar told TimesofIndia.com in an exclusive interview.
Karmakar also hailed Saurabh who shot 98, 100, and 98 in the three Series in Stage 1 of the Mixed Team event. The youngster shot 96 and 98 in both the series of Stage 2, but didn't get proper support from Manu. Manu, who shot 97, 94, and 95 in Stage 1, could only shoot 92 and 94 in Stage 2 and that wasn't enough to see the India pair qualify for the medal matches.
"There is no logic, reason to blame or say anything against Saurabh. He did his best. He was unfortunate that Manu couldn't shoot (well). It was unfortunate that he didn't get proper support from Manu from the other end. If you see Saurabh's score, you will clearly see he was one of the best. In the individual qualification, Saurabh was on top and in fact, in the team event, he was on top. It was not Manu's day. It was mental pressure that she succumbed to. I don't know whether she was carrying the trauma of the individual event (gun malfunction). If that is (the case), then it is very sad. You cannot be shooting at the Olympics while carrying the baggage of a lost match in your next match. I think she succumbed to pressure," Karmakar further said.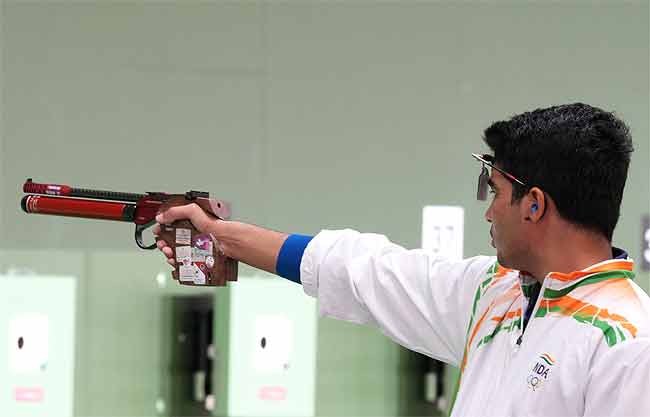 India's Saurabh Chaudhary. (PTI Photo)
Current Indian shooter Heena Sidhu, a three time Asian Games medallist and the first Indian pistol shooter to be ranked world number one also felt that Manu buckled under pressure.
"Saurabh did really well. Manu, in her individual match, was a bit unlucky, but she fought back. But at least she showed a tough fight. Manu didn't fight back (in the mixed team). For that, she can't give an excuse. She can't give any reason. In simple words, she couldn't handle the pressure. She was able to do Qualification 1, but she couldn't do well in Qualification 2. The training has to change," Heena told TimesofIndia.com.
One of the biggest talking points as far as the current Indian shooting contingent at the Games is concerned is that there are a number of very young shooters in the team. Manu and Saurabh for instance are 19 years old.
But Heena feels age should not be a criteria while judging performance at this level.
"I don't think we should give them the benefit of doubt and call them youngsters. They have been shooting the senior scores. It doesn't matter what your age is. There are a lot of athletes who come, play their maiden Olympics, and win medals. During the Abhinav or Gagan times, they didn't have the facilities the shooters have today. Any youngster who wants to pursue shooting as a career can easily find a range close to his home now. Acquiring weapons also became so easy," Heena said.
"First of all, everyone was giving the hype about the World Cup medals. Rather than looking at the World Cup medals, we should look at their performances. Did they actually repeat the same World Cup performance or not? We were expecting them to repeat the World Cup kind of performance at the Olympics. Once they are back, they need to work on a lot of things. They need to sit and make plans for the next three years. They need to work towards the next Olympics now. They should make a roadmap for the Olympics.," the 31-year-old shooter further told TimesofIndia.com.
CAN INDIA STILL WIN SHOOTING MEDALS IN TOKYO?
India had fielded 12 shooters at the 2014 Rio Olympics. Apart from Abhinav Bindra (in the Men's 10 m Air Rifle) and Jitu Rai (in the Men's 10 m Air Pistol), no shooter managed to make it to the finals. Bindra finished fourth, while Jitu finished 8th in the final, and Indian shooters failed to win a single medal in Rio.
As far as the Tokyo Olympics are concerned, there are still quite a few shooting events still left to compete in for the Indian shooters.
Rahi Sarnobat and Manu Bhaker in the Women's 25m Pistol event, Tejaswini Sawant and Anjum Moudgil in the Women's 50m rifle 3 positions event and Sanjeev Rajput and Aishwary Tomar in the Men's 50 m rifle 3 positions – the shooting events that are yet to happen.
And Heena and Joydeep are hopeful that Indian shooters can still sign off the Tokyo Games on a positive note by winning medals.
"Of course, we can win a medal. There is a possibility of winning a medal. We still have hope. But I will put my hope in the 25m pistol only. I am not that confident about R3Ps," Heena told TimesofIndia.com.
"We still have shooting events left. We have Aishwary Pratap Singh Tomar. He is a young guy and focussed. We have Sanjeev Rajput, the experienced and veteran shooter. We have Rahi Sarnobat. Manu is there too. Let's hope for the best. But I was confident that we would win medals in the mixed events, but that didn't happen. I am still hopeful. I am an athlete and a coach too and I love this sport, so I cannot lose hope," Karmakar told TimesofIndia.com.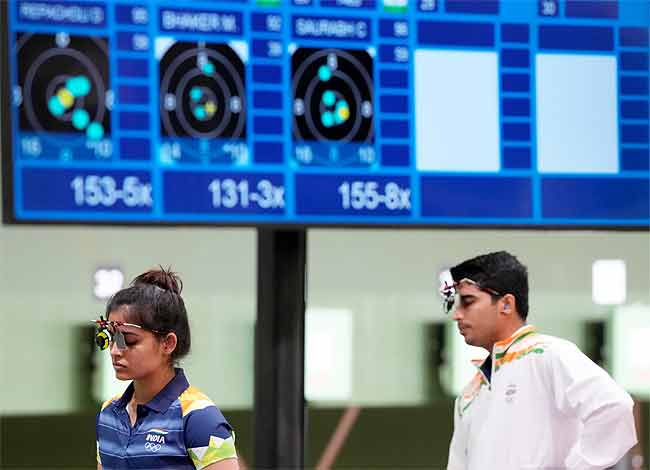 India's Manu Bhaker and Saurabh Chaudhary. (PTI Photo)
'INDIAN SHOOTING TEAM NEEDS A HIGH-PERFORMANCE COACH'
Karmakar feels it was the inability to deal with high pressure situations that cost India a medal in shooting at the Tokyo Games so far. According to the veteran rifle shooter, India needs a high-performance coach.
"Indian shooting needs a proper high-performance coach. The high-performance coach will actually teach the shooters how to handle pressure. It is not about shooting or any (other) sport, it is all about the mind at the Olympics," Karmakar said.
"All 25 shooters in the lineup know how to shoot 10s. It is the mind that needs to be controlled and harnessed. We don't need good boys or good girls. We need bad and brutal guys and girls who go there, perform and win it. We want to make good shooters, but good shooters never win. We need to make them champion shooters. This fire wasn't there. You need a brave heart at the Olympics. The fire was missing there. They were not attacking, they were defending at the Olympics," he said.
"It was a disappointing performance. We need to know how to handle pressure. Pressure should be a constant companion for a shooter during training. The Olympics are a different ball game altogether. You will not face such pressure or see such an environment anywhere else. You need to sort of find a way to create artificial pressure and get your level higher and higher to deal with such pressure," Heena added.