NEW DELHI: If legendary Slovenian shooter Rajmond Debevec can, why can't India's
Tejaswini Sawant
? Debevec was 37 when he won his maiden Olympic medal in 50 metre rifle three positions in 2000 in Sydney Games. Incredibly, Debevec had to wait till his fifth Olympic appearance before tasting his first success at the Games.
Tejaswini Sawant is 40 (turns 41 in September). She won a World Championship gold medal in Munich in 2010 and is gearing up for her maiden Olympic appearance in Tokyo. She will be India's oldest-ever Olympic debutant.
She missed out on an Olympic berth twice before – in 2008 (Beijing Olympics and 2012 (London Olympics). But her long-cherished dream of becoming an Olympian finally came true when the shooter from Kolhapur, in Maharashtra, clinched a quota place for the Tokyo Games by finishing fourth in the women's 50m rifle 3 positions event in the 14th Asian Championship in Doha in November 2019.
For Sawant, age is just a number and the experienced shooter wants to make every moment count when she aims at the target in Tokyo.
Ahead of the Olympics, Timesofindia.com caught up with Tejaswini to talk about her preparations in Croatia, medal chances, her Olympic dreams, and much more.
Excerpts….
How is your training going in Croatia? What different training methods did you employ for the Tokyo Games?
I have been training hard. I didn't miss out on anything in a pandemic in terms of practice, training, or workouts. I am enjoying every bit of it. In fact, we should thank NRAI and SAI for arranging this trip to Croatia. I have been given a training programme and I am following it religiously. I will try my best to execute my training plan in a proper way. I just want to keep everything as simple as possible.
Your long wait to compete in the Olympics is finally about to end. How does that feel?
I have been giving my best to make it to the Olympics for years. After a long time and years of hard work, I have finally made it to the Olympic team. I am really happy and excited about it. I want to make it count. I didn't give up on my Olympic dreams.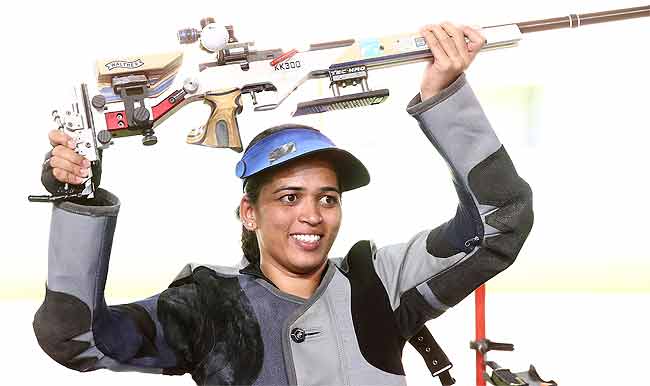 Tejaswini Sawant. (Photo by Scott Barbour/Getty Images)
The patience and perseverance shown by you were exemplary. What drove you forward towards your maiden Olympic dreams?
I want to give credit to my coach Kuheli Gangulee. We both were working towards this dream. She never allowed me to give up on my dream and quit. She still shoots. She herself is an international shooter. She had set a new national record at the age of 46 in 2016. My coach's "never give up" attitude has inspired me a lot. I always thought and told myself that when my coach can, then why can't I. That thought and positivity brought me here.
Sanjeev Rajput will also be shooting at the Tokyo Olympics. He is also 40. Does he share his Olympic experiences with you?
Sanjeev will be participating in his third Olympics. He is an experienced shooter. I will look forward to some valuable tips from him.
Due to the COVID-19 pandemic, what precautions and safety measures are you taking in Croatia? What are the protocols the NRAI has asked you to follow?
We are following all the protocols related to Covid 19. Croatia doesn't have that fearful atmosphere like India. But still, we are taking all the precautions and safety measures. NRAI has given us guidelines and we are following those.
How has the sport of shooting changed from when you first began competing to now? What are the big changes you have noticed?
There are several chances. Sabse bada change jo mujhe feel hota hai wo iss khel ke prati logon ka nazaria badal gaya (The biggest change I have noticed is that the attitude of people towards shooting has changed). People are more interested in shooting now. There are many youngsters who want to take up shooting as a career. This is all because of the performance of our shooters. Results matter in a game. I would like to give credit to our federation (NRAI), SAI, and Sports Ministry for motivating and supporting us.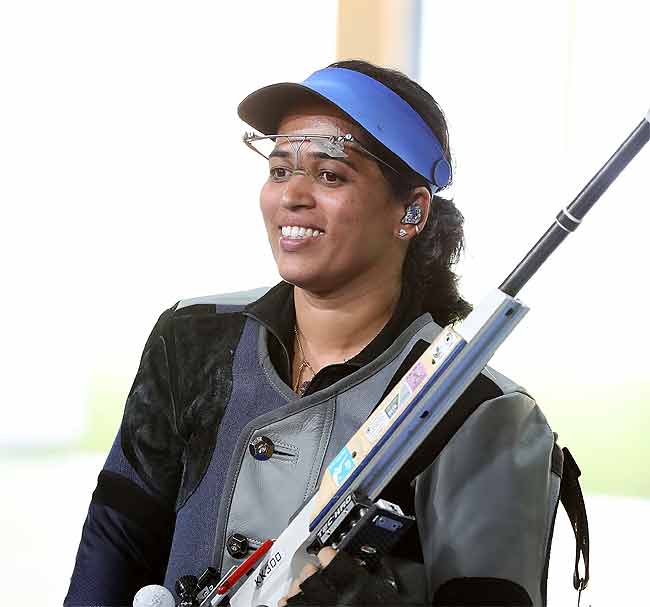 Tejaswini Sawant. (Photo by Scott Barbour/Getty Images)
What is your favourite memory of shooting?
Winning the World Championship title in Munich in 2010. Equaling the World Record was really a memorable day for me.
Who is your favourite pick, amongst Indian shooters, for a medal at the Tokyo Olympics?
Well, I really cannot pick any one particular shooter as I feel all are capable of giving their best on that particular day.
India won 3 medals in Beijing in 2008, 6 medals in London in 2012, and 2 in Rio in 2016. How many medals, according to you, can India win in Tokyo?
To be very honest I have not thought of this. But of course, I want Team India to rock. I hope we make every Indian feel proud of the Tokyo Olympics team.