NEW DELHI: He might be about to make his maiden Olympic appearance, but Indian javelin thrower
Shivpal Singh
is not feeling nervous at all. Though much of the spotlight has been on his compatriot and fellow javelin thrower
Neeraj Chopra
, who is being tagged a potential medal contender at the Tokyo Games, the 26 year old Shivpal is quietly confident that he too can be on the podium in Tokyo.
Shivpal, who won a silver medal at the 2019 Asian Athletics championship and a gold medal at the Military World Games in the same year, feels his preparation and training for the Games have been very good and is itching to be among the top performers at this edition of the Olympics.
Independent India has never won an Olympic medal in a track and field event. Will the Tokyo Games finally break that jinx?
Shivpal spoke to TimesofIndia.com about his chances in Tokyo, Olympic pressure and if he is feeling any of that, his bonhomie with Neeraj, his javelin throw journey, family support and much more.
Excerpts:
How have your Olympic preparations been going?
I am in Pune right now. The climate is really good here for practice. I am on a good, proper diet and following the schedule. All preparations are done, only final touch-ups are left.
What special things (in terms of practice) did you do to prepare for the Tokyo Games?
I am doing speed work out these days. We have machines here and I am practicing really hard for the Tokyo Games.
How difficult was it to practice under the Covid forced lockdowns?
There were some problems during the lockdown, especially mentally. I just wanted to be mentally and psychologically fit during the lockdown because I wasn't going out for practice. But I took it on as a challenge and worked a lot on myself with the help of coaches, trainers, and my seniors.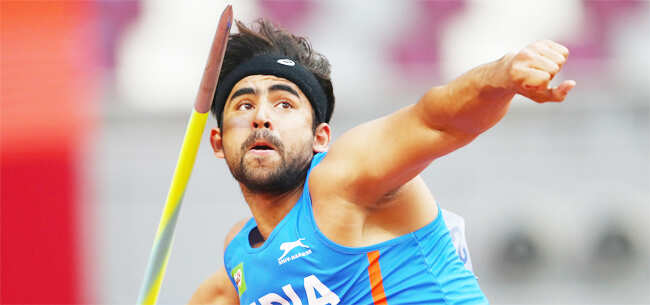 Shivpal Singh (Image credit: Michael Steele/Getty Images)
This will be your maiden Olympic appearance. Are you nervous? Did you speak to anyone and ask them what Olympic pressure is like?
I am fully prepared for the Olympics. I know this is my maiden Olympics but I am not nervous at all. I just want to go and give my best. I have performed in big tournaments and won medals too. I will compete alongside the same people at the Tokyo Olympics who were part of recent competitions and tournaments. So, I am not nervous at all. All I want to do is go to Tokyo, perform and win a medal for my country. I am not feeling any pressure.
There won't be any fans in Tokyo to cheer for you and the other athletes in the stadiums. How important is it to have fans around you in terms of motivation?
I have motivated myself a lot for the Olympics. It won't matter to me that fans won't be there.
India technically have won two Olympic medals in athletics, courtesy Norman Pritchard's silvers in the 1900 Games. However post independence, India hasn't won a track and field medal at the Games. What is the reason behind that you think?
Neeraj and I will bring the medals this time, then I will answer this question.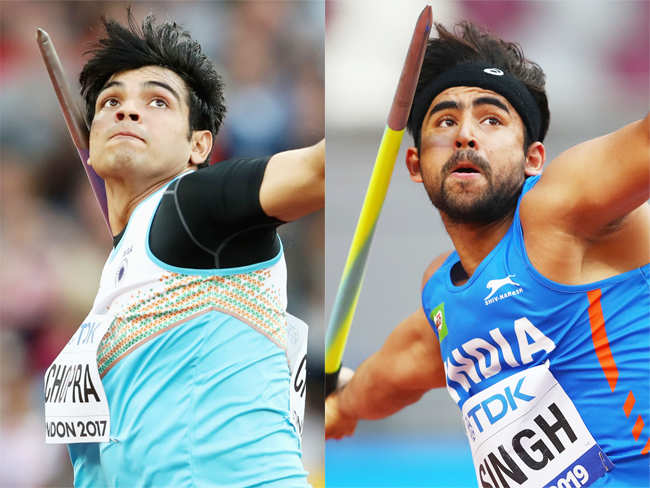 Neeraj Chopra and Shivpal Singh (Getty Images)
Do you think you can become independent India's first Olympic medallist in track and field?
Yes. I am confident of winning a medal in Tokyo. India will win a number of medals in Tokyo.
You have a personal best of 86.23m while winning a silver medal in the Asian Championships in Doha last year. Germany's Thomas Rohler won the gold medal in the Rio Olympics with a throw of 90.30m, Kenya's Julius Yego won silver with 88.24m, and Trinidad and Tobago's Keshorn Walcott bagged the bronze with a throw of 85.38m. In that context how would you rate your medal winning chances?
Germany's Thomas Rohler who won the gold in Rio is not part of the Tokyo Olympics. He is injured. The standard of Javelin Throw is so high these days. Winning a medal in Javelin is not easy. I know my personal best is 86.23m, but that doesn't mean I will win a medal. If a medal has to come it can come at 84 plus score, if not then it won't come in 90m plus as well. Javelin throw is an unpredictable sport. Even a 90m plus throw can't get you a medal sometimes. What if the other javelin throwers throw 92m plus? In the 2019 World Championships, Johannes Vetter of Germany threw 89.35m in the qualifying. But when the final started, he threw 85.37 and slipped to third position. Grenada's Anderson Peters threw 86.89m to win the gold medal. So, you can't predict anything until all the six throws are done. Every single point matters in Javelin. But I will give my best and hopefully return with a medal.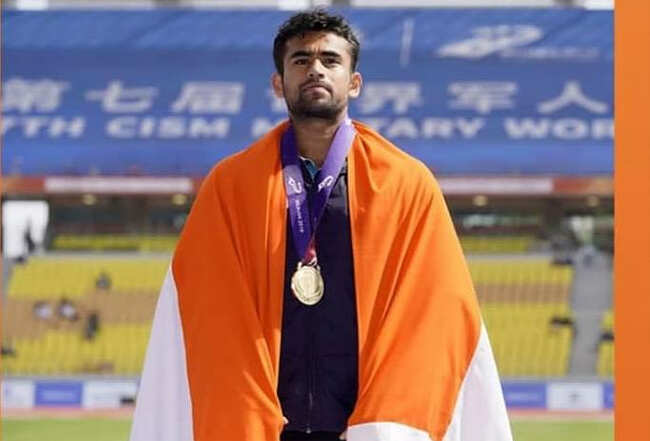 Image credit: Shivpal Singh's Twitter handle
Have you been briefed about the precautionary measures you will have to take in Tokyo due to COVID-19?
I have been briefed about all the protocols by the Athletics Federation of India. First, we will be quarantined for three days. We have been instructed to wear masks and sanitise our hands properly. We will not be allowed to meet other athletes. We will be undergoing COVID-19 tests every second day.
Neeraj Chopra is another Indian Javelin thrower who will be travelling with you for the Tokyo Olympics. Can you tell us something about your bonhomie with him both and on and off the field?
We are very good friends. We share a great understanding. We have shared the same room in the past. He is a talented javelin thrower. We have trained together a number of times. I am sure he will do well at the Tokyo Olympics.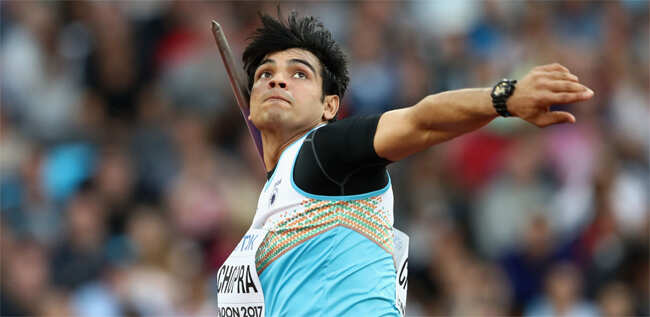 Neeraj Chopra (Photo credit: Alexander Hassenstein/Getty Images)
Neeraj is being tagged as a big medal contender for India at the Tokyo Olympics. Do you think he can win a medal in Tokyo?
I am sure he will bring a medal. I am not saying gold, silver or bronze, but I am confident that Neeraj will surely win a medal in Tokyo.
Who is your inspiration and why?
My uncle Jagmohan Singh. He is the one who first put a javelin in my hand and taught me the basics of the sport. He was a javelin thrower and a national gold medallist. He is working in the Navy.
Talk to us about your first-ever experience with a javelin. What was the support from the family like?
I was just 10 when my uncle gave me a big bamboo stick and I used it as a javelin. My father, uncle and brother were all javelin throwers. So, there was a lot of support from my family. I was so chubby when I was younger. I started at a very young age.
There is a school of thought that India will come back with the maximum medals they have ever won at an Olympics from Tokyo. Your take on that…
Definitely. I agree. India will bring a bagful of medals from Tokyo.
Which sport can win the most medals in Tokyo in your opinion?
Javelin throw. You will see two medals in javelin at the Tokyo Olympics.
PV Sindhu won a silver medal in Rio. Can she win another medal in Tokyo and match wrestler Sushil Kumar's record of winning two individual Olympic medals?
I am sure she can. She has the ability to do it. She is an inspiration for many in the country. I want to wish her all the best.
Your message for Indian fans who are expecting very big things from the Indian contingent this time
I just want to request every Indian to cheer for us and pray that we all perform well in our respective sports and disciplines and win a medal for our country. We all want to make our country proud.