NEW DELHI: "Winning is not everything for me, winning is the only thing" – that's what boxer
Vikas Krishan
said before heading for his career's third Olympic Games. But his Tokyo campaign was not a long one. He suffered a first-round exit (men's 69kg) and saw his dreams of winning an Olympic medal being shattered.
He was outpunched 0-5 by local favourite Sewonrets Quincy Mensah Okazawa of Japan in the opening round.
In his maiden Olympic stint in London 2012, Vikas was eliminated in the preliminary round. At the Rio 2016 Olympics, Vikas put on an impressive show, but failed to win a medal. He defeated the likes of USA's Charles Cornell and Onder Sipal of Turkey to enter the quarterfinals. He eventually lost to Bektemir Melikuziev of Uzbekistan in the quarters.
"I am really disappointed. I was injured but wanted to play and win the bout for my country. Whatever I practiced and learned all these years, I wanted to use it all, but destiny had planned something else for me," Vikas told TimesofIndia.com after his exit.
"I was injured but I didn't want that injury to affect me mentally, so I went on boxing," he said.
India's Vikas Krishan during his bout against Japan's Sewonrets Quincy Mensah Okazawa. (Photo by Buda Mendes/Getty Images)
With three Olympics appearances already to his name, the 29-year-old wants to bounce back harder in the 2024 Olympics, scheduled to be held in Paris.
"I called my parents and my friend Neeraj after the bout. I was in tears and said sorry to them. I will come back harder next time. I am not done yet and will make a comeback," the boxer further told TimesofIndia.com.
Vikas is one of the Indian boxers who have a World Championship medal under their belt. He has also won gold medals at Asian Games, Commonwealth Games, and Youth World Boxing Championships.
HOW DID VIKAS GET INJURED? NEERAJ GOYAT EXPLAINS
Vikas, who became the second Indian boxer to appear in three Olympic Games, after Vijender Singh, owes his career to his childhood friend Neeraj Goyat, a three-time WBC Asia titleholder (2015, 2016, and 2017). Neeraj had halted his boxing career in order to prepare Vikas for the Olympics. Vikas switched over to professional boxing in 2018 and made his pro boxing debut in the United States in January 2019. He has fought two bouts overall so far and won both. After that, he returned to amateur boxing again and started chasing his Tokyo dreams.
Neeraj, who was with Vikas in Italy to prepare him for the Olympics, explained how Vikas suffered an injury that played a big role in him facing a first-round exit.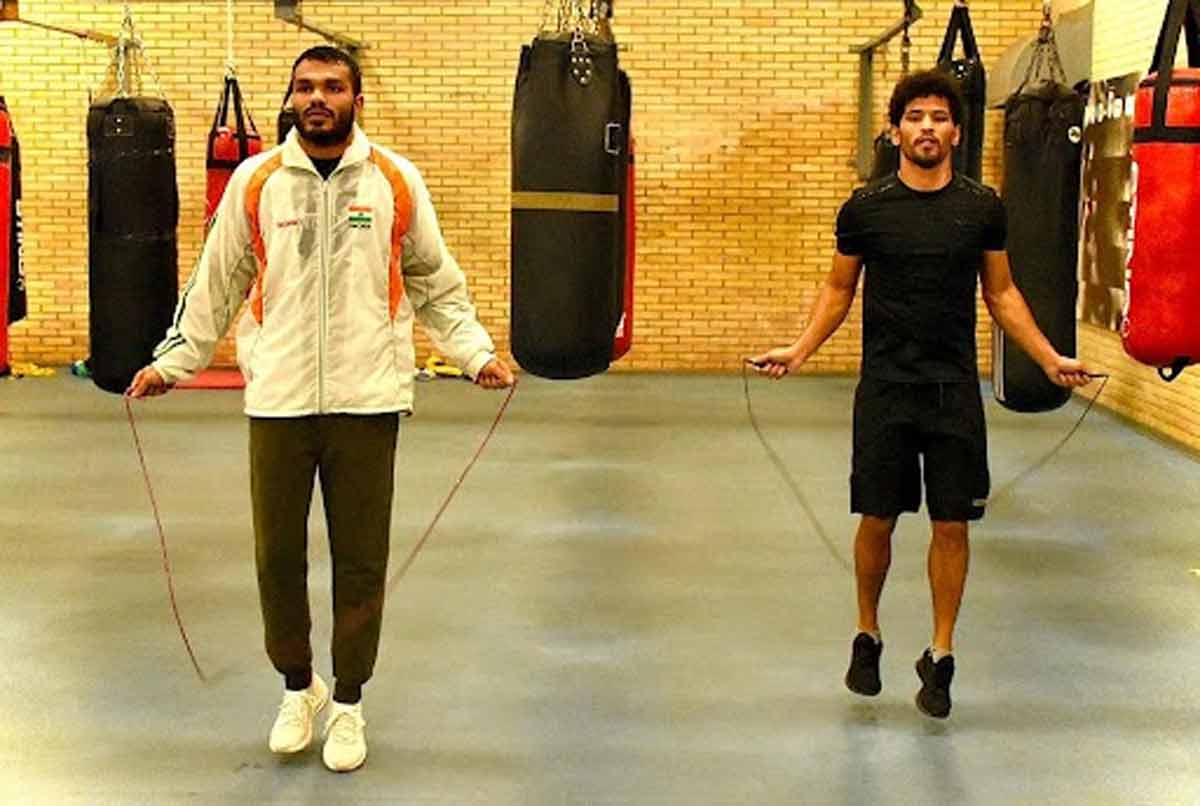 "The incident happened on July 12 when Vikas had to spar with a boxer in a training session. His regular sparring partner didn't show up for some reason, so he was assigned another sparring partner (from Italy) who was not of his weight category. During the session, a forceful punch from Vikas collided with the sparring partner's punch. The punch was very forceful. Vikas was in pain. The impact was on his shoulder, and he had injured it. We immediately gave him medicines and an ice pack. His condition seemed alright, but not perfect," Neeraj told TimesofIndia.com, while recalling the incident.
"I called doctors and physiotherapists to attend to Vikas," he said.
"On July 17, when the team was leaving for Tokyo, Vikas looked fine, and I left for India. He reached Tokyo and called me. He said he is feeling perfect. I was so happy for him. I wanted him to finish Tokyo on a high," Goyat said.
But destiny had planned something else for Vikas in Tokyo. During a training session, just two days ahead of his first bout, Vikas was hit at the same place where he was hit in Tokyo. He was again in pain. The coaches and staff took him to the hospital for scans. He was given treatment and the only thing Vikas said to his team was 'I will play'.
"He said he will go on and play. I wasn't confident because I also went through a shoulder injury during my career and it's not easy to box soon after that. It takes time. Vikas is brave, he went ahead, but lost," Goyat further told TimesofIndia.com.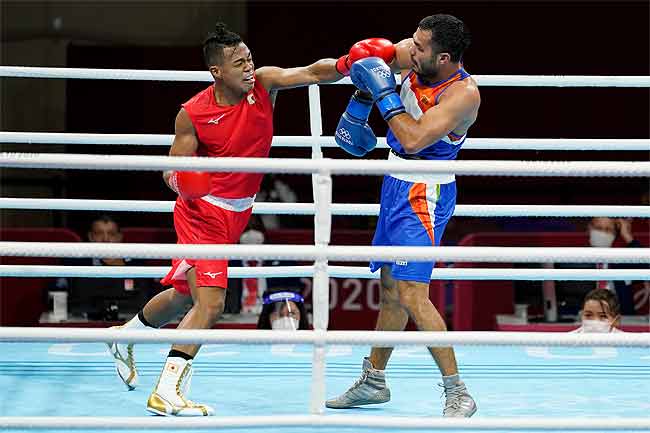 India's Vikas Krishan during his bout against Japan's Sewonrets Quincy Mensah Okazawa. (AP Photo)
'VIKAS IS DOWN BUT NOT OUT'
Neeraj is confident Vikas will bounce back harder and make it to the Paris Olympics in three years time.
"He has fallen but I am sure he will rise again. He has always let his punches do the talking and he will do that again," Goyat signed off.