Often, chief coach Graham Reid's match face is inscrutable. On Tuesday, however, he allowed himself a smile and couple of fist pumps. The expression was more than just a celebration. It was an endorsement of how far his team had come in less than 36 hours.
Battered and bruised by a 1-7 mauling by Australia on Sunday evening, Manpreet Singh's men regrouped at the Oi hockey stadium in Tokyo to blank Spain 3-0 and vault to the second spot behind Australia on the points table in Group A. With the top four from the group making the knockouts, the win boosted India's chances.
To come back from a moralecrushing defeat is never an easy task. On that count, the India team showed ample resilience and resolve against a team ranked ninth in the world. The match wasn't without flaws, but India managed to hold themselves together to get through the finish line with a clean slate.
To start with, India made a strategic change. They cashed in on the new rule of an 'alternative' player through which they replaced Gurjant Singh with Simranjeet Singh, a move which paid off. Having gone back to the drawing board tactically, India turned out to be a far superior team. They had a plan in place, which was to keep possession of the ball and pack the defence. They did not falter in executing it.
They also came off the blocks quickly, especially in the first quarter, and the aggression with which they attacked gave the team the upper hand.
India played their best hockey in the first quarter, especially in the last minute-and-half. In the 14th minute, Spain, who were trying to dictate the pace, were caught napping when a charging Amit Rohidas relayed a bumpy ball from the right flank for Simranjeet to slot home from close range.
India kept up the pressure and three consecutive penalty corners later, they earned a penalty stroke.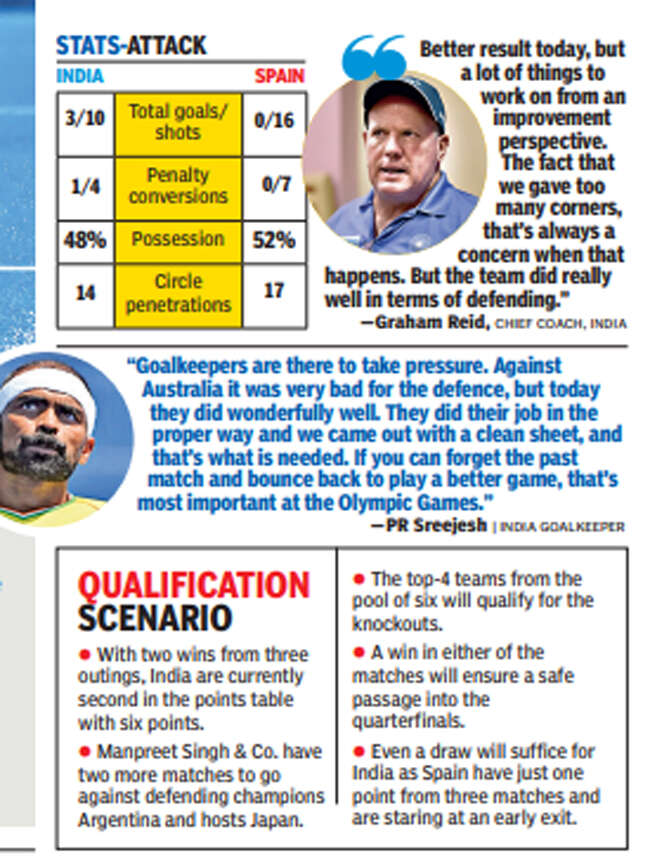 Rupinder Pal Singh (15th minute) made no mistake in placing the ball in a fine gap between the Spanish goalkeeper's pads and the right hand.
But the momentum shifted in the second and third quarters as Spain began to make their moves. They repeatedly raided the striking circle but were met with robust defence. India's wall, PR Sreejesh, stayed true to his reputation of being a reliable man in goal. Rupinder completed the tally with a low penalty corner conversion in the 51st minute but India were guilty of having dropped intensity in the last quarter.
After a day's break, India run into defending champions Argentina on Thursday. In the intervening period they will have to sort out their forwardline and midfield. The strikers, barring Mandeep and Simranjeet in patches, failed to keep ball possession as they headed into the striking circle. The midfield, on the other hand, made too many unforced errors and were found lacking in ball contact.