From the moment the announcer at Tokyo's Ryogoku Kokugikan arena called out her name and she walked out slamming her gloves against each other,
Pooja Rani
meant business. She entered the ring sans histrionics and walked away the winner with minimum fuss. In a word, she was dominating in her 75kg pre-quarterfinal bout.
Pooja's 20-year-old opponent – Ichrak Chaib of Algeria – was jumpy and declared herself the winner even before the judges had taken a call. In a unanimous decision, the judges gave a 5-0 verdict in Pooja's favour.
In her debut Olympic Games bout, Pooja was calm and self-assured. Next up is a somewhat familiar foe in China's Li Qian, a gold medallist at the 2018 World Championships and bronze winner at the Rio
Olympics
. She is the current world No. 3 and has defeated Pooja twice in as many meetings.
"Pooja was extremely focused and she fought intelligently," women's
boxing
high performance director
Raffaele Bergamasco
said. "Her opponent made the mistakes and she capitalised on those." But Team Pooja knows it won't be the same against the Chinese. "Li Qian is very agile and difficult to attack. We will be working together on some counter-attacking strategies for her," said Bergamasco said.
Pooja came into the Olympics having won her second Asian Championships gold medal in May earlier this year. The confidence shone through in her opening fight.
Right from the outset, the bout between Pooja and Ichrak showed the difference between the two boxers in experience and class. Ichrak was wildly throwing her punches, as most of them were either going wide or up.
The Algerian found it difficult to get a measure of Pooja, and in between entangles, Pooja managed some scoring points with the jabhook combination.
छोरी ने लठ गाड़ दिया 👊🏽 #PoojaRani https://t.co/tlOh3NHc3N

— Vijender Singh (@boxervijender) 1627467277000
Pooja steadily got into her rhythm but was never required to put in her 100 percent in the opening round. The second round went more or less on similar lines. Ichrak kept charging towards Pooja with her full body weight, and the Indian would then smartly sidestep and start her flurry of counter punches.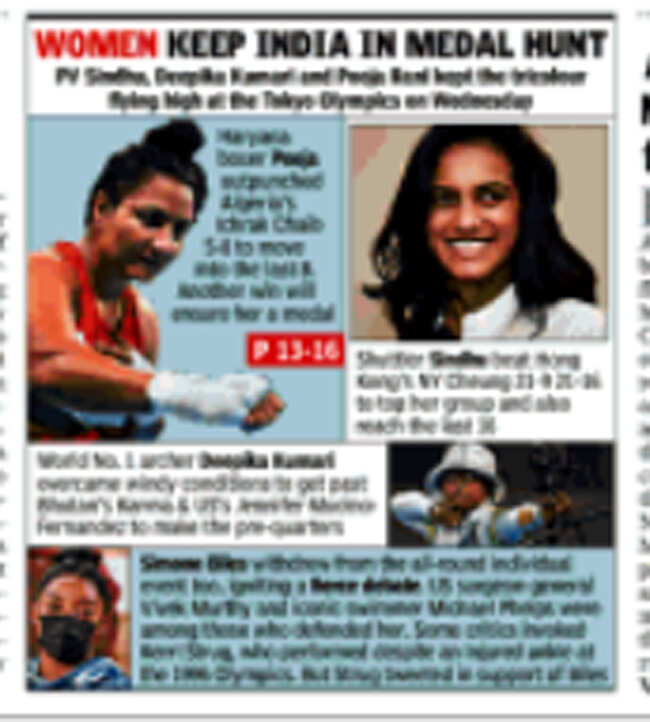 Pooja's combination punches as well as her dodging and blocking impressed the judges, with all of them voting in favour of the Indian once again. In the third, even as Ichrak was getting exhausted, the Indian chose to go on the defensive. There was some inelegant jostling, but it didn't impact the scoreline one bit. All the five judges once more were on Pooja's side.