NEW DELHI: There is a definite buzz in Sonipat's Nahri village these days. People of Nahri are eagerly waiting to see
Ravi Dahiya
return with a medal around his neck from the
Tokyo Olympics
. The expectations are high after Ravi won a bronze medal at the 2019 World
Wrestling
Championships in Tajikistan in the freestyle 57 kg category to book an Olympic berth.
He didn't stop there. The 23-year-old, then, won two gold medals at the 2020 and 2021 Asian Championships, held in New Delhi and Almaty (in Kazakhstan), respectively.
With this medal-winning spree, Ravi will hit the mat as one of the top medal contenders at the Tokyo
Olympics
.
"I worked really hard in the past two years. The World Championship medal gave me a lot of confidence and I haven't looked back since then. I am thankful that I have got the opportunity to represent my country and I will not disappoint people. I will surely return with a medal," Ravi told TimesofIndia.com in an exclusive interview.
"In these two years, I made a lot of sacrifices as well. My coach and my trainer helped me a lot. They have played a big role. They sat with me and made a schedule and I have been following those. My schedule included my diet plans, watching my medal-winning videos and wrestlers who won gold medals in the last two Olympics (my weight category). I had some shortcomings. I was continuously working on my defense. That's the area I worked a lot on," he said.
Ravi Dahiya (PTI Photo)
"I have spoken with seniors and coaches about Olympic pressure. They said to take it one bout at a time and not take pressure. Just go and perform. I just want to go and give my best," the 23-year-old wrestler who will be appearing at his maiden Olympics this time further said.
Since his bronze medal finish at the World Championship in 2019, Ravi has wrestled to gold twice – at the Asian Championship. The only thing he is now aiming for at the Tokyo Games is gold.
"Silver and bronze are not on my mind. My target is gold. I want to become the first Olympic wrestling gold medallist from my country and make people proud," he further told TimesofIndia.com..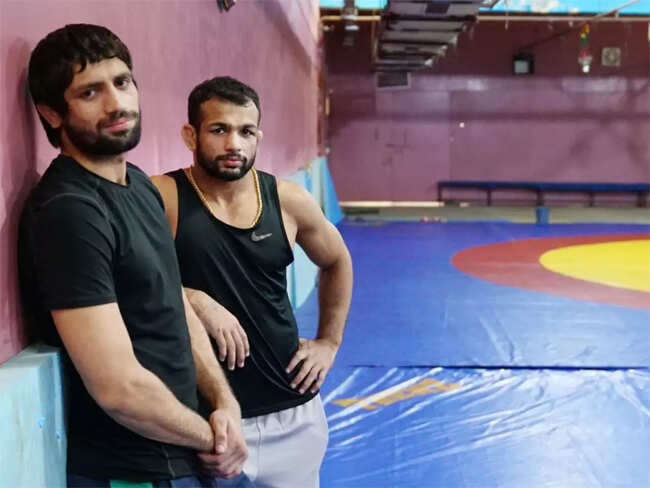 Ravi Dahiya and Amit Dahiya (TOI Photo)
Ravi is the third Olympian from Nahri. Mahavir Singh (1980 Moscow, 1984 Los Angeles) and Amit Dahiya (London 2012) are the other two.
"My village Nahri has a lot of hopes for me and I am confident that I will make them happy," he said.
MEDAL FAVOURITES
Indian wrestlers have won 5 medals in Olympic history.
KD Jadhav (bronze in 1952 Helsinki Games), Sushil (bronze in 2008 Beijing Games and silver in 2012 London Games), Yogeshwar Dutt (bronze in 2012 London Games), and Sakshi Malik (bronze in 2016 Rio de Janeiro Games) are the wrestlers who have brought home the big prize – an Olympic medal in wrestling for the country.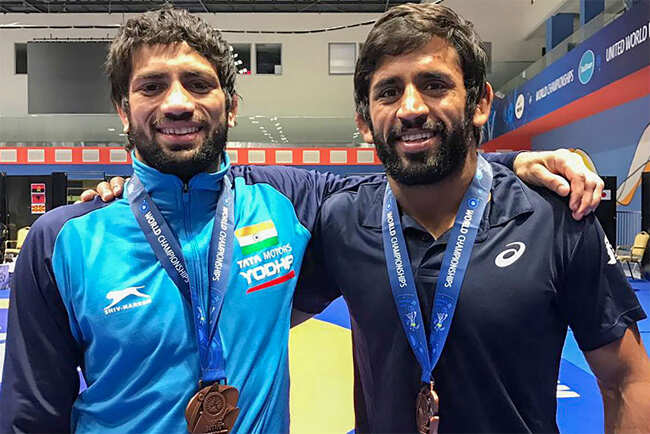 Ravi Dahiya and Bajrang Punia (Twitter photo)
Apart from Ravi (57kg), Bajrang Punia (men's 65 kg freestyle), Deepak Punia (men's 86 kg freestyle), Vinesh Phogat (women's 53 kg freestyle), Anshu Malik (women's 57 kg freestyle), Sonam Malik (women's 62 kg freestyle) and Seema Bisla (women's 50 kg freestyle) are the other wrestlers who will be representing India in Tokyo.
"We all are medal contenders. Look at Bajrang, Deepak, and Vinesh, everyone has been on a medal-winning spree and are in good touch. I will pray that all should be injury-free. We can win a number of medals in wrestling this time," Ravi said.
"We have all trained very hard and prepared ourselves well. I am confident that wrestling will top the medals tally for India at Tokyo Olympics," the wrestler signed off.