Was
Manika Batra
a little out of line or justified in her demand to get oncourt access to personal coach
Sanmay Paranjape
? Whatever the real reason, a day ago the table-tennis player's blunt refusal to seek advice from chief national coach
Soumyadeep Roy
, during her first-round match against Britain's Tin-Tin Ho, generated some controversy.
On Sunday, Manika rose above all the chatter and negative talk, scripting a sensational, comefrom-behind victory against World No. 32 Ukrainian Margaryta Pesotska in a seven-game thriller.
The win brought cheer and served as a timely reminder of Manika's considerable abilities. The 26-year-old Delhi girl, ranked 30 places below Pesotska at World No. 62, came back from two games down to upset the Ukrainian 4-11, 4-11, 11-7, 12-10, 8-11, 11-5, 11-6 in her women's singles second-round match, which lasted a pulsating, excruciating 56 minutes.
Pesotska is coached by her mother Margarita Anatoliina, a former USSR and Ukraine champion.
Manika, the country's topranked women's table-tennis player, will next face Austria's Sofia Polcanova, the World No. 16, in the third round on Monday, and the entire country will hold its breath in anticipation of another giant-killing act from the talented paddler.
Manika had already created history en route her 4-0 victory against Ho on Saturday, when she became the first Indian woman paddler to win a table-tennis match in 29 years since the 1992 Barcelona Olympics. India's last women's singles win in T-T came when Niyati Roy-Shah defeated Cuba's Marisel Ramirez in Barcelona during the preliminary stage.
Manika's strong mental resolve and brilliant control stood out. In a way, she also appeared to be seeking validation of sorts. After all, she knew a disciplinary action might be awaiting her back home for stopping official coach Roy from performing his duties.
Manika has largely been keeping to herself in the Athletes Village, spending much of her time indoors. She has kept her interactions with team members and coaches to a minimum. Perhaps it has all added to her resolve.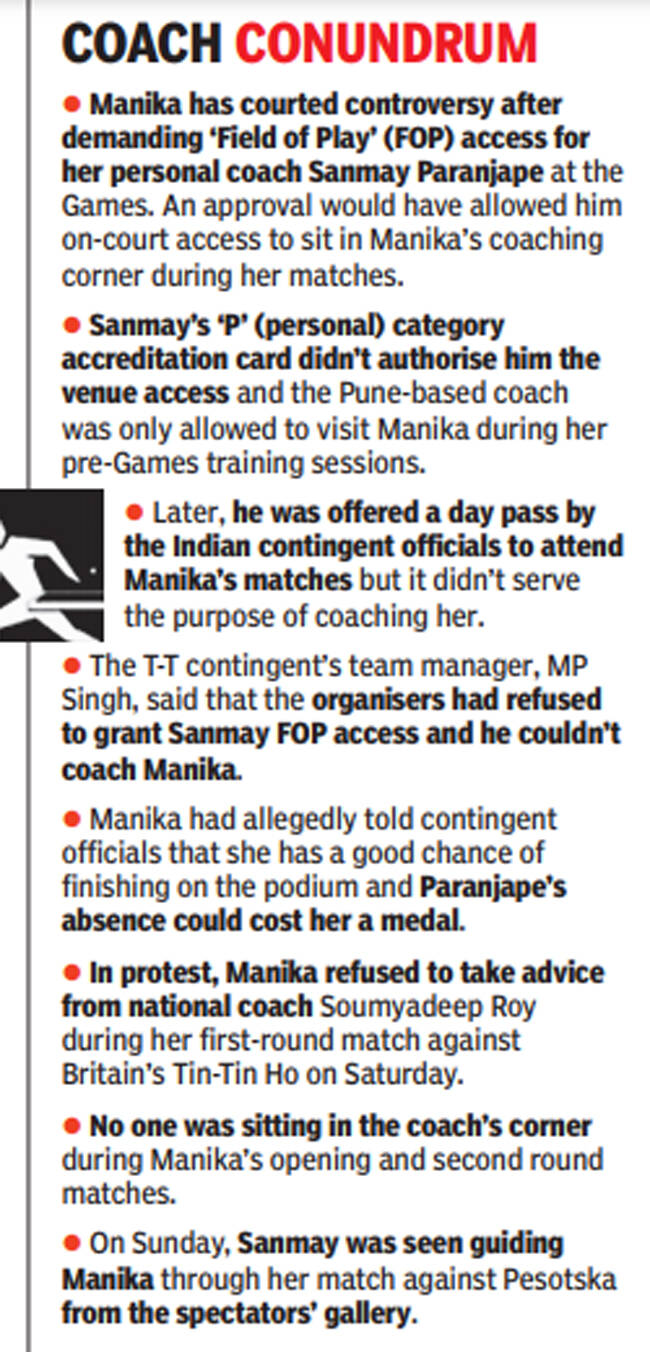 On Sunday, she was two games down to Pesotska and stood on the precipice of defeat. Even as she recovered, finding hidden reserves of confidence and resilience, TV cameras inside the Tokyo Gymnasium arena focused on a man constantly cajoling Manika from the spectators' gallery: it was Paranjape, with his mask on.
It was as if Manika was waiting for her coach to arrive and show her the way. Midway through, she changed her game plan and focused more on rallies and powerful smashes. At times, she just rolled the ball on to the opponent's side of the table to make the return impossible. She even took to standing a slight distance behind the table.
The Ukrainian threatened to derail Manika's Tokyo campaign by taking the fifth, but Manika wasn't in the mood to give up after having come this far. She effected an even greater comeback in the sixth game and her relentless attack, coupled with occasional top spin, sealed the issue in her favour in the decider.
For the player, the performance must have been a resounding retort to her detractors.