NEW DELHI: Will the Tokyo Games be the most successful Olympics for India? Some are predicting a haul in double digits in Tokyo.
Indian shooter
Joydeep Karmakar
, who represented India at the 2012 Olympics in London and missed out on a bronze medal in 50m rifle prone event, finishing fourth, says 'nothing can surpass Olympic pressure'.
Karmakar finished behind the bronze medallist Rajmond Debevec of Slovenia in the London Games.
(PTI Photo)
"Olympics is a different ball game altogether. Many of the athletes are being called fire guns, fearless. Everything is fine. But I hope their mental state right now has been kept in the best possible way by the coaches. Because they don't have experience, but still you can't avoid that pressure. When you land there, you realise, what you are into. Nothing can surpass that pressure of the Olympics," Karmakar told Timesofindia.com.
"Shooting is in a different league altogether. Indian shooters have already achieved a level where they are at the top. If I talk about other disciplines, there must be dreams of winning an Olympic medal. Maybe athletics, maybe swimming. But the reality is that there is very little chance. Because they know even if they break the national record, they might not be able to enter the finals," he said.
India have a 15-member shooting squad in Tokyo. The Indian shooting squad for Tokyo 2020 consists of Deepak Kumar, Divyansh Singh Panwar, Sanjeev Rajput, Aishwary Pratap Singh Tomar, Saurabh Chaudhary, Abhishek Verma, Angad Vir Singh Bajwa, Mairaj Ahmad Khan, Apurvi Chandela, Elavenil Valarivan, Anjum Moudgil, Tejaswini Sawant, Manu Bhaker, Yashaswini Singh Deswal, and Rahi Sarnobat.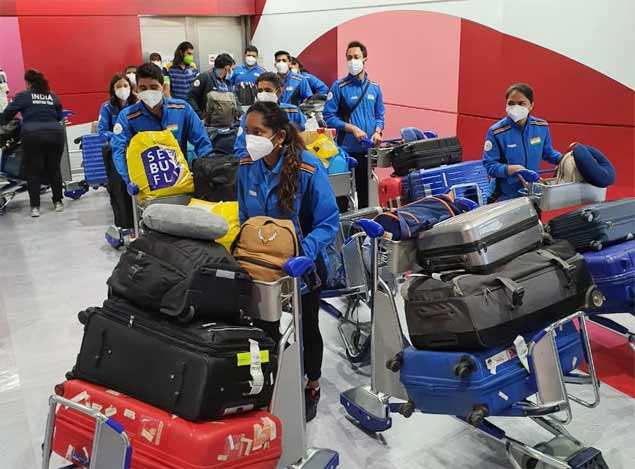 (NRAI Photo)
It was Rajyavardhan Singh Rathore's silver in the 2004 Athens Olympics that in many ways kick-started India's shooting revolution.
For decades, an individual gold medal had eluded India at the Olympics, but it was Abhinav Bindra's historic gold in Beijing in 2008 that became a watershed moment for Indian shooting and Indian sport overall. Vijay Kumar's pistol silver at the London Olympics and Gagan Narang's bronze medal in the 10 m air rifle event in the same edition (2012) took India's tally to 4 medals for the sport of shooting at the Olympics (Rathore, Bindra, Vijay, Gagan).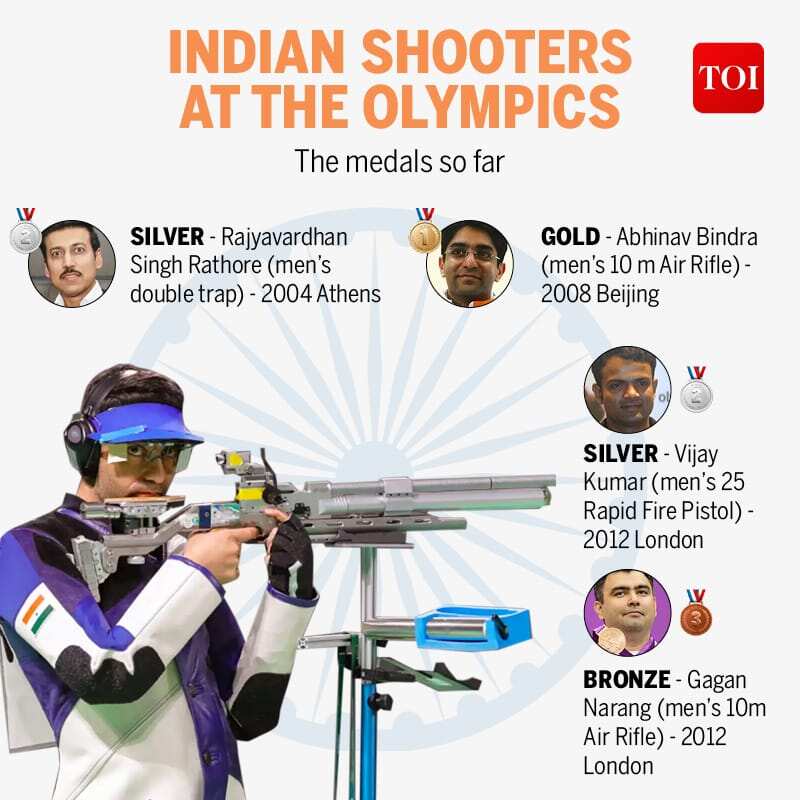 On being asked about India's medal chances in shooting this time around, Karmakar said: "Overall things are looking positive. Indian athletes are performing really well. Not just Indian shooters, every single sportsperson has performed really well with each passing day. They have improved their performances. Realistically, two medals should be confirmed in shooting this time. And if it is not there, it's a disaster. Two medals from the mixed events. I will not be surprised if India finishes 1 and 2 or 2 or 3 in one event. We may get two medals in one event (mixed team). This is a big possibility and a realistic possibility." Karmakar further told TimesofIndia.com.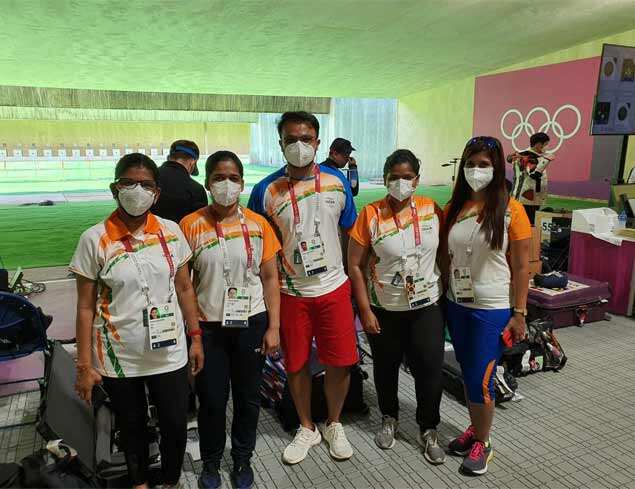 (NRAI Photo)
"But let's talk reality. The Olympics is a different ball game altogether. Coaches or analysts keep a close watch on the athletes. It is not just their performance. It is their performance vis a vis the world level. These performances are not confined to the Commonwealth Games or Asian Games. This is the world's biggest stage. Athletes from all around the world are expected to do their best," he said.
"Someone saying India will return in double digits in terms of medal-winning etc. These things don't matter to me. What matters for me is individual excellence. If I talk about shooting, the expectations are so high. We have beaten Chinese also in the finals," he further said.
Karmakar also sent a message across to the Indian shooters to be well-prepared to go up against the Chinese shooters, who weren't part of the ISSF World Cup in Delhi.
China has won 56 Olympic medals in shooting so far – 22 gold, 15 silver and 19 bronze.
"If I talk about shooting, considering the Delhi World Cup or other World Cups, shooters did really well. But we need to put things in perspective as a fan and a sports lover. Talking emotionally is very good, showing support and cheering for your sportspersons is really good, but let's face the reality. Many of the big countries weren't there at the Delhi World Cup. China, Korea weren't there. These countries weren't there and we don't have any idea how well they are prepared. We are clueless about the Chinese level of performance right now. They are world leaders in shooting. China is a top country. They are invisible right now. No one has an idea of how they are preparing and where they stand right now," the 41 year old told TimesofIndia.com.