NEW DELHI: Saturday was a pretty normal morning. The headlines across Tokyo Olympic coverage in India as usual included the famed names – PV Sindhu in the semis, Amit Panghal in the boxing ring. The two athletics events largely rested in the listicles of the day's schedule. At 6 am, when the TV screens beamed Seema Punia, the remote controls in the hands of early-rising sports fans in India got a break. The channel surfing stopped. But it was not until a 25-year-old debutant circled inside the ring that
discus throw
grabbed their attention.
Appearing in her fourth Olympics, Seema's best throw of 60.57m left her qualifying chances hanging by a thread. Archer Atanu Das took the broadcast space between the Group A and B of the discus throw qualification round. Thirty-one women were vying for 12 places in the discus final. The 15 from Group A had finished. Seema stood 6th among them, and now had to wait to know her fate. In came
Kamalpreet Kaur
– in Group B.
(AP Photo)
The not-so-widely-known Kamalpreet was surrounded by big names like Cuba's world No. 1 and 2019 world champion Yaime Perez, world No. 4 Valarie Allman of USA, world No. 5 Bin Feng from China and 12 other famed throwers in Group B.
In the end, incredibly, among the entire 31 throwers in Group A and B combined, Kamalpreet was the one of only two who could achieve the direct-qualification distance of 64 metres. The Punjab-based athlete had become only the second woman, after Krishna Poonia in 2012, to make it to the discus throw final at the Olympics.
"I had just told her to qualify, didn't give her much of a target," a very relaxed Rakhi Tyagi, Kamalpreet's coach, said in her reaction when contacted by TimesofIndia.com.
Rakhi couldn't accompany Kamalpreet to Tokyo, as her accreditation didn't come through. She is instead conducting a camp in Patiala currently.
Before going to the stadium, Kamalpreet called her coach and said: "Ma'am aap ho nahi, mujhe akele perform karna pad raha hai, bahut pressure hai (ma'am you are not here, I have to perform alone, it creates pressure)" — Rakhi recalled the phone call from Tokyo.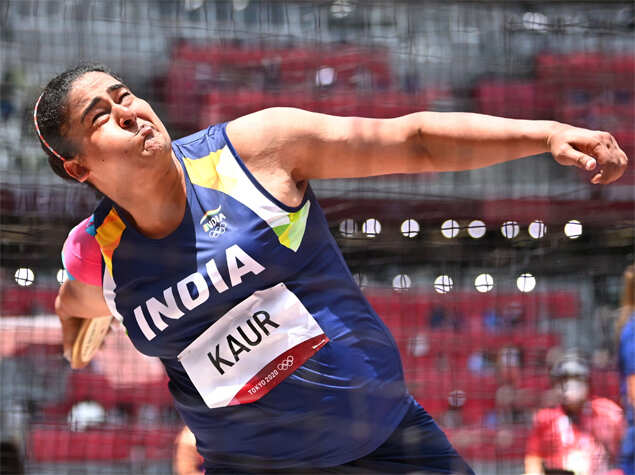 (Reuters Photo)
Kamalpreet registered a distance of 60.2 metre on her first attempt, much below the expectations that had risen after she broke the national record when her throw measured 65.06 metre at the Federation Cup in March this year. It booked her a ticket to Tokyo and Kamalpreet hadn't stopped there. At the Indian Grand Prix in Patiala this June, she extended that distance to 66.59 metre.
On Saturday, coach Rakhi had her eyes on every technical detail of Kamalpreet's first Olympic throw. After a not so impressive 60.29m, she rang up the Indian coaches sitting in the stands of the Olympic Stadium in Tokyo.
With courage and determination #KamalpreetKaur becomes the 1st ever Indian woman to breach the qualification mark i… https://t.co/dcLnlDbGRg

— SAIMedia (@Media_SAI) 1627709052000
"I was guiding her by calling the coaches in the stands, telling them what to tell her. There was Radha sir (Radhakrishnan Prabhakaran), and (Mohinder Singh) Dhillon sir. I was talking to them and they were relaying my instructions," said Rakhi.
"I told them that her lower body was moving a little slowly, I asked them to tell her to quicken the momentum of the lower body. I couldn't tell them much more because the message had to be passed onto her quickly." Rakhi further told TimesofIndia.com.
The legs, shoulders and hips do the majority of the work in discus throw. The hips, knees and ankles extend to generate power during circular motion through the back and middle of the ring, until the athlete reaches the power position at the top of the ring with speed.
Congrats, that was a solid performance #kamalpreet at #tokyo2020 Get rest & comeback even stronger for the finals… https://t.co/aw3GgyG4Na

— Athletics Federation of India (@afiindia) 1627706736000
Rakhi spotted the slowness in Kamalpreet's lower body movement, got it corrected over a telephone call from Patiala to Tokyo and the second throw Kamalpreet threw measured 63.97 metre. That turned her name into a hashtag on social media. Then, she didn't look back.
The third throw of 64.00 metre landed bang on the direct-qualification mark. A place in the August 2 final was sealed, at No. 2 among the 12 finalists. American Valarie Allman was the only other thrower to breach the direct-qualification mark with a distance of 66.42 metre.
Kamalpreet called Rakhi soon after qualifying. "Kamal told me 'I was nervous on the first throw, wary of committing a foul. I was under pressure, but after that my confidence developed and I threw with freedom'," Rakhi further recalled.
"I hope she doesn't commit a foul (register an invalid throw in the final) because she tends to do that."
Vying for a hat-trick of gold medals will be Croatia's London 2012 and Rio 2016 champion Sandra Perkovic. She topped Group A with a throw of 63.75 metre.
To put the difficulty level of a final into perspective, Perkovic's gold-medal winning distance in Rio was 69.21 and in London 69.11. Surely, the top athletes save their best for the last.
"She (Perkovic) is a deserving senior athlete, two-time world champion (2013 and 2017). So, of course, she will do better in the final," said Rakhi. "But Kamal, too, will try her best to at least achieve the best she has thrown so far (in her career, 66.59m).
"I had told her to save her maximum effort for the final. At the same time, it's difficult to hold back once you enter the circle in competition mode. But her qualification will release some pressure for the final as competing (at the Olympics for the first time) would have added to her confidence." Rakhi told TimesofIndia.com.
Celebrations in anticipation of a historic medal have already started at Kamalpreet's home. Technically, barring Norman Pritchard in 1900, India haven't won an athletics medal at the Olympics. Kamalpreet has earned a shot at that, and it's making the family nervous already.
"I have continuously been in touch with her family. People have started visiting them already with sweets. They told me 'Rakhi, you please come over.' They too are feeling the pressure."
There surely will be butterflies in the stomach for both the student and the mentor for the August 2 final. And Rakhi will possibly keep the call between her and the coaches in Tokyo on through the length of the final. She certainly doesn't want Kamalpreet to miss this crack at history.
"In the final, she should focus on herself and not bother about who is throwing what distance. Plus, what I feel is that due to a gap of 10 days, her body was moving a little slow. Whatever we were doing in training until June 23, that was slightly missing today," said Rakhi.
"But I have told her what she needs to do."