NEW DELHI: 'Uneasy lies the head that wears a crown' – The immortal words of
William Shakespeare
will always be true.
Needless to say, the biggest responsibility in a cricket team lies with the captain. And when that captaincy is of a cricket-mad nation like that of India's, the skipper's every move is under intense scrutiny.
Though
Virat Kohli
took to captaincy like a fish to water after
MS Dhoni
relinquished the limited overs responsibilities in January 2017, the constant pressure of performing, leading from the front with the bat and the immense workload took a toll on his batting form. On September 16,
Virat
announced that he will quit India's T20 captaincy after the
T20 World Cup
, which starts next month.
🇮🇳 ❤️ https://t.co/Ds7okjhj9J

— Virat Kohli (@imVkohli) 1631794995000
Till date, Virat has played 90 T20Is, in which he has led India in 45 matches. India won 27 matches under Virat's captaincy out of those, while losing 14 games. Two matches were tied and two had no result. This gives Virat a winning percentage of 65.11 in T20Is so far, which is very good.
Though Virat is yet to win an ICC trophy as captain, he has led India to victory in the last five T20I series that he has played.
The decision to relinquish T20I captaincy was one that was taken after considerable discussions with the BCCI, the team management and the Head coach and was one that didn't really catch most people by complete surprise.
However, Virat's decision to step down as captain of the Royal Challengers Bangalore franchise after this season of the IPL was one that did surprise a lot of people.
On the eve of the IPL match against Kolkata Knight Riders on September 20, which was RCB's first match of phase 2 of IPL 2021, Virat announced that he will step down from RCB captaincy also after this edition.
Virat Kohli to step down from RCB captaincy after #IPL2021"This will be my last IPL as captain of RCB. I'll conti… https://t.co/oS4UZeZKQH

— Royal Challengers Bangalore (@RCBTweets) 1632070853000
Let's take a look at what Virat's captaincy record has been as skipper of RCB since he took over captaincy duties in 2013.
Virat has played 200 matches for RCB overall, having been with only one franchise since the beginning of the IPL in 2008. He has led the team in 133 games. Under his captaincy, RCB has so far won 60 matches and lost 66 games. Three matches were tied and four bore no result. Virat has a winning percentage of 47.67 while leading RCB.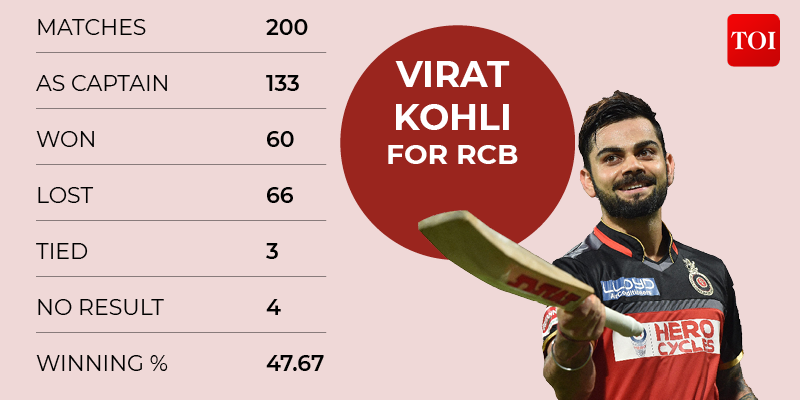 Under Virat's captaincy, RCB's best result in the IPL was being the runners-up in the 2016 final. It was also the season in which Virat won the orange cap for most runs with a staggering total of 973 runs in 16 innings. He had an average of 81.08 and a strike rate of 152.03 that season and he smashed as many as 4 centuries and 7 fifties.
Even though he has scored over 6,000 runs in the IPL, Virat's inability to win a title for RCB across 13 seasons is something that is always pointed out by his critics.
But despite giving up the captaincy, Virat has confirmed that he will be playing for RCB in the IPL 'till his last game'.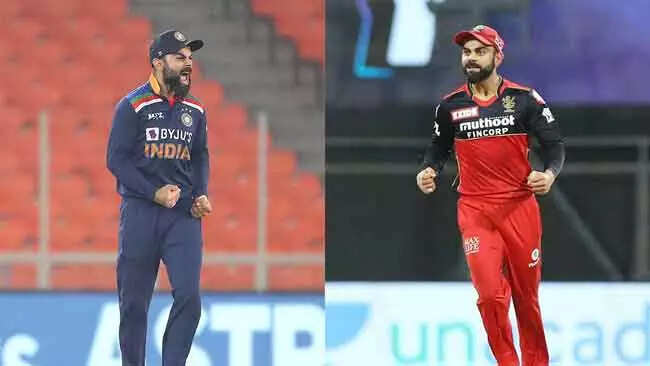 Virat Kohli. (Photo by Surjeet Yadav/Getty Images and BCCI/IPL Photo)
The decision to step down as T20I and RCB captain will allow Virat to concentrate more on his batting. Widely regarded as the best batsman of his generation, Virat hasn't been in prolific form for a while and would love to go back to being the run machine that he has been.
In his quest to become the best batsman in the world, Virat changed his lifestyle, his training methods, his exercise regime and the results were amazing. As his body transformed and became fitter and fitter, it coincided with his terrific form with the bat.
Virat has not scored an international hundred for 53 innings across all three formats. Relinquishing the captaincy in the shortest format to reclaim the title of the best batsman in the world might in the long run be a sacrifice well worth it.