Karolina
Pliskova
came into
Wimbledon
on a wing and a prayer. Her form floundering and her confidence wilting in the summer heat.
The former No. 1's goal was to make the second week of The Championships, having never been past the fourth round of the grass-court major. Modest expectations. The 29-year-old didn't have a win on the surface either in the lead-up to the fortnight. She had lost in her first outing in Berlin, to the 26th-ranked
Jessica Pegula
, it was her fourth loss of the season to the American, after falling thrice in successive events in March. Her ranking had dropped to No. 13 last week, ending her run inside the top-10 after 230 weeks.
The Czech may not have been high on belief, but her team had formed a tight circle around her.
"Sascha (Bajin) was super confident in me," the eighth seed said of her German coach. "He (just) said (to me), I told you, you were going to make the final." Pliskova has been working with Bajin since November 2020. Bajin is the long-time hitting partner of Serena Williams, who later coached Naomi Osaka to her first two Grand Slam titles the 2018 US Open and the 2019 Australian Open. He won the inaugural WTA Coach of the year.
Despite early struggles, when she crashed to shock losses, Pliskova kept her faith in Bajin. "To be honest, it's thanks to him I'm where I am now, because he doesn't put any pressure on me," Pliskova said. "He's super positive, which for me is sometimes hard to be."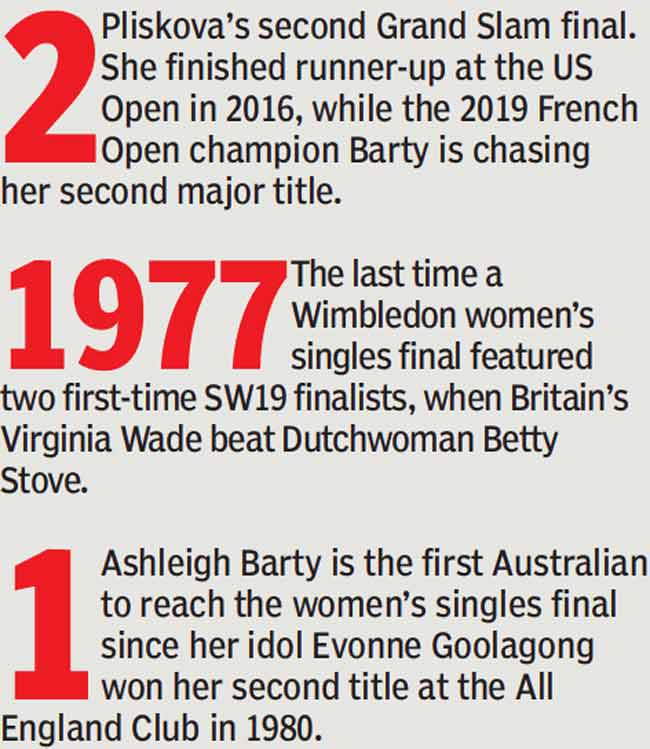 Pliskova has won 93 percent of her service games in the tournament, topping the charts, she has also sent down the maximum number of aces at 54. In her second Slam final, after the 2016 US Open, Pliskova is hunting for her first major title against world No. 1 Ashleigh Barty, who triumphed in her maiden trip to the final at the 2019 French Open.
"I have a feeling about the game overall with her, which is important," said the Czech, who trails the head-to-head 2-5. "I don't really look if I lost or if I won because I know I beat her, I know I lost too, but every time it was a close match, a good match actually. She makes you feel a bit ugly with the game which she's playing."
The question then would be if Pliskova, looking for her first title of the season, is willing to win ugly.