Shami
scalps four but Kane and tail help Kiwis get vital 32-run lead; Southee gets openers Rohit and Gill, India 32 ahead with 8 wickets left
It's finally game on in
Southampton
, but India may be on the back foot.
The team's tirelessly accurate pace lengths, highlighted by a
Mohammed Shami
masterclass in attacking seam bowling, and Kiwi captain
Kane Williamson
's obdurate stonewalling in difficult batting conditions marked a captivating full fifth day of play in the WTC Final.
MATCH HIGHLIGHTS
|
SCORECARD
But as play ended, there was tension and anticipation in the air, missed too often in this severely rain-affected Test, as first New Zealand eked out a 32-run first innings lead and then India inched ahead by the same margin.
But Kohli's men lost two crucial wickets in the bargain, with Tim Southee's devious 'three-quarter' scrambled seam first getting rid of Shubman Gill, and then Rohit Sharma offering no stroke to an incoming one at an inopportune time.
As the Test inched into the crucial reserve day, India were 64/2 in their second innings, with the fear of a collapse seemingly never far away in these conditions. Amid a sea of impressive cameos on either side, Shami seized the day, coming up with his second four-wicket haul (4/77) at this venue and the first four-wicket haul by an Indian bowler in an ICC tournament final.
Virat Kohli's prescient bowling changes and some excellent slip-catching and ground fielding shored up the Indian challenge.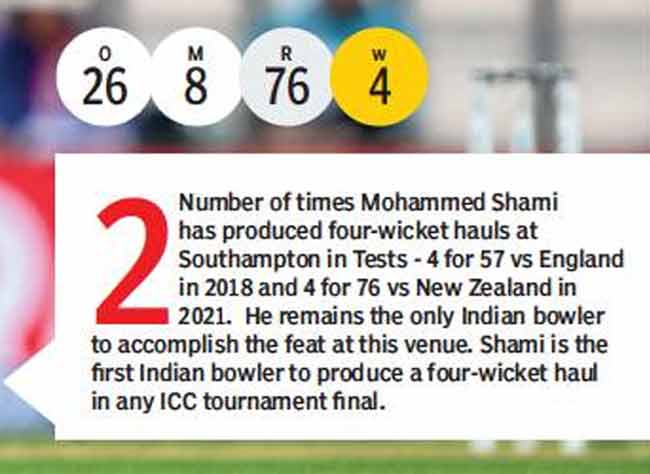 Shining brighter than the bashful Southampton sun, Shami bowled 53% of his deliveries outside off and found the near perfect "English" length of around 6 metres. His willingness and ability to lure the batsmen forward and pry open their defences gave India, defending only 217 first-innings runs, the courage to hunt for wickets amid the back-of-a-length 'dry' bowling with which they had kept a lid on proceedings. It was a day of immaculate control from Shami, well backed up by Ishant and an unusually hit-or-miss Bumrah. India did miss a genuine swing bowler and yes, the two spinners were largely unrequired in these conditions, but the judicious use of the second new ball and Shami's sustained excellence made up for it.
New Zealand still inched ahead, with the likes of Grandhomme, Jamieson and Southee lifting the team out of the run scoring morass it had dug for itself in the morning. The last five Kiwi wickets contributed 114 compared to India's 61. WTC Final: Southee double gives New Zealand hope against India
Allowed to leave too many deliveries early on, Williamson (49 off 177 balls; 6×4) was the glue that held the innings together, calm as a monk and playing late, with soft hands and an angled bat. His right elbow troubled him, however, and he slowly sank past even Pujara territory with his strike rate.
Williamson got his first runs half an hour into the day's play and NZ added just 16 in the first hour. At one point, Williamson had added one run in a 42-ball period. He was the slowest to 100 balls (15 runs) in his career and had a 0.26 run rate in the morning, according to the Cric-Viz Analyst, the slowest for any top-order batsman in a decade. But he too was allowed to shift gear later in the day.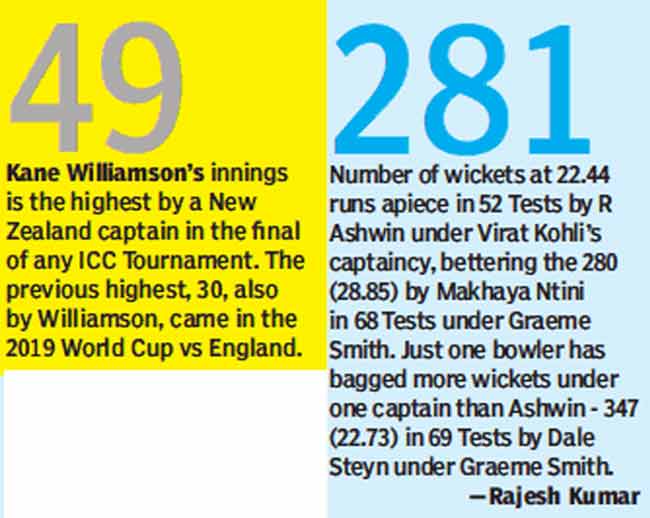 It was after the first drinks break that the skiddy Shami got into his stride, figuring out his length and even getting the ball to swing just that bit more. He started beating the outside edge and got his reward by drawing Ross Taylor forward and inducing the drive, only for Gill to snap up a full-length diving catch at short cover.
Getting 0.8 degrees of swing compared to 0.4 on Day 3, Shami was virtually unplayable when he pitched it up. He set up his wicket of the day, BJ Watling, with ones that shaped away before getting one to knock the top of off stump. After lunch it was Grandhomme's turn, Shami delightfully using the length of the crease, going wider then jagging it back in for an LBW. Shami sucker-punched the antsy Jamieson next with a short ball right after being smacked for six, having already changed his luck by changing his length.