New Zealand deserving winners of first-ever World Test Championship
And in the end, under the bright Southampton sky, there was only gloom for India as a deserving New Zealand basked in the glow of being crowned first-ever world Test champions.
It was a tense, nervy affair throughout with the ball dominating, but the safe bats of
Kane Williamson
and
Ross Taylor
eventually guided this golden generation of
Kiwi cricketers
past a paltry yet tricky target of 139 and to an 8-wicket win, the team's first ICC title since 2000, also against India in Nairobi.
SCORECARD
|
AS IT HAPPENED
The runs didn't come easy after R Ashwin cracked the top order open, but the target was too small, the Kiwi resolve too great and the overs available, ironically after two days of washout, simply too many. Bumrah dropping Williamson, and Pujara dropping Taylor at slip, were late reminders of India's miserable day.
India simply couldn't bat long enough. The fact that
Virat Kohli
's men lost inside four days of actual cricket will give them pause ahead of the long English summer. The Kiwis clearly had the edge in these conditions and started as favourites, but hindsight can be a merciless beast.
The lack of match practice in England hurt them but shouldn't India have played an extra batsman in Hanuma Vihari? Should Mohammed Siraj have got a game? What could the batsmen have done to upset the rhythm of the relentless Kiwi pacers?
Importantly, how can Virat Kohli silence his inner demons against the sizeable abilities of Kyle Jamieson, who bowled 84 balls to India's captain in the WTC cycle, gave away 30 runs and dismissed him thrice, including twice here? New Zealand beat India in World Test Championship final
When will the Indian middle order (Nos. 3, 4 and 5 averaged 24 in this Test) rediscover form? Can opener Shubman Gill, who averages 12.66 from his last 7 innings, turn it around soon? And how many times will Nos. 9, 10 and 11, who average 21 since 2018, the worst in the world, be required to make contributions with the bat overseas?
The answers will arrive in due course but it will rankle this proud Indian team, which has towered over the rest of the Test pack for a few years now, that this was their game to save on the sixth morning. They faltered, providing only an erratic exhibition of batsmanship, full of either circumspection or injudicious strokeplay.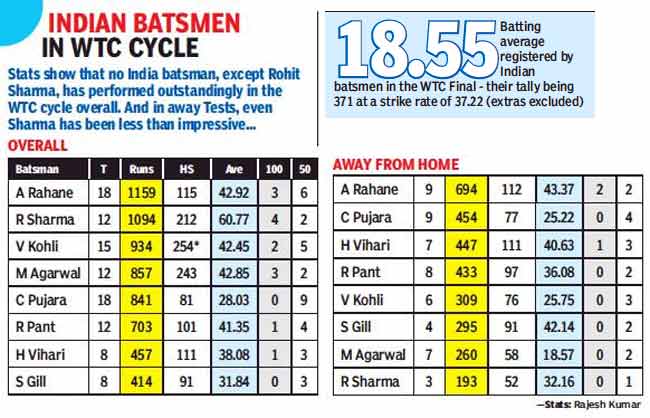 Only Rishabh Pant's out-of-the-box survival tactics, stemming from a bizarre mix of bravado, adrenaline and sheer anxiety, offered hope. Dropped by Southee at second slip on 5, Pant walked brazenly into Wagner's deliveries and tried countering the bowler's sustained short-ball barrage with reverse pulls and unique ramp shots. It was an original approach but not the calm touch India needed and it was never meant to last.
Add a couple of dismissals against the run of play, bats hanging out to dry, and it is clear why India folded for 170 in their second innings. Their hesitancy was testimony to the Kiwi attack's rare ability to plant the seed of doubt in the batsmen.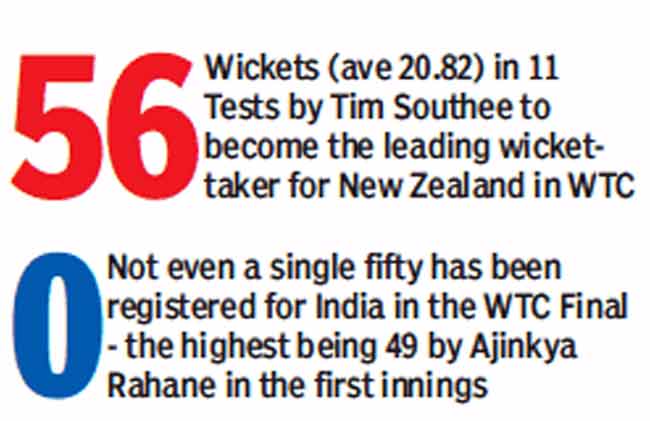 Kohli, anxious about the nip-backer from Jamieson, was first beaten repeatedly by deliveries which held their line, later inducing the loose shot to a wide one angling away. Kohli's caution was understandable, since from the start of 2018 he averages only 22.35 against balls deviating into him, and he batted a long way down to negate the LBW. That he fell fishing would have infuriated him.
Pujara, meanwhile, didn't commit to a defensive shot and there was another strange, soft dismissal for Rahane.
Plans will be redrawn ahead of the England Tests. For the moment, India have slipped when it mattered, leaving them to wonder what could have been if this WTC Final had been staged at home. No one, after all, remembers who came second.